HP Mini 1101, 110 XP and 110 Mi netbooks announced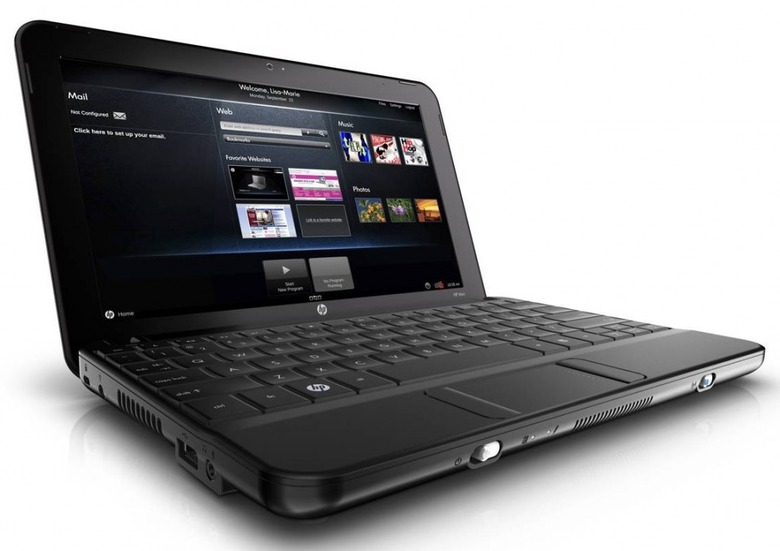 HP have announced three new models in their Mini netbook range, in the shape of the 1101, 110 XP and 110 Mi.  Based around a 10.1-inch LED-backlit LCD and either Intel's Atom N270 or N280 processors, the new netbooks have GMA 950 graphics while the Mini 110 XP throws in a Broadcom Crystal HD Enhanced Video Accelerator good, apparently, for 1080p video.
Video demo after the cut
Otherwise the specs are all pretty mainstream.  The 110 XP gets Windows XP, 1GB of RAM and either a 160GB hard-drive or a 32GB SSD, together with optional WWAN integrated 3G.  The 110 Mi uses HP's own Linux-based custom OS, with up to 250GB of storage and 2GB of RAM.  Both come with "Syncables Desktop", which apparently makes synchronizing files, media and other information straightforward between a 110-series netbook and a primary PC.
Finally, the HP Mini 1101 is the serious version of the 110 XP, dropping the Broadcom graphics chip and throwing a choice of XP or Vista into the mixture.  It will be the first to arrive, on June 1st, priced at $329 in gloss black; following will come the Mini 110 XP and Mini 110 Mi, in black swirl, on June 10th priced from $329.99 and $279.99 respectively.  Finally, the Mini 110 XP will get two new color options – pink chic and white swirl – on July 8th, though pricing is yet to be announced.
Press Release:
HP Expands Mini PC Portfolio, Delivering New Designs and Capabilities for People on the Go

PALO ALTO, Calif., May 27, 2009 — HP today expanded the award-winning HP Mini family with three new models, offering customers sleek, lightweight companion PCs that come in a variety of configurations and designs — all small enough to slip into most purses, backpacks or briefcases.

The new HP Mini 110 XP Edition and the HP Mini 110 Mobile Internet (Mi) Edition were designed for Internet-centric consumers to stay connected to what's important to them, while at home or on-the-go. The Mini 110 provides consumers with a choice of Pink Chic, Black Swirl or White Swirl HP Imprint finishes.

The HP Mini 1101 is ideal as a companion PC for small and medium-size businesses and frequent business travelers. The Mini 1101 offers business users a sophisticated Black Swirl design.

The new Mini models are as stylish as they are mobile, starting at 2.33 pounds and measuring just over 1-inch thick. With a 10.1-inch diagonal standard or optional high-definition LED widescreen display, a keyboard that is 92 percent the size of a standard notebook PC keyboard, and a built-in webcam and microphone, the new HP Minis are designed for consumers and business professionals who surf the web, check email, listen to music and need access to friends, family, co-workers or information while on the go.

"With these new HP Minis, we're enhancing the customer experience by adding compelling features that allow users to interact with their Mini in a fun way. Our broad portfolio of mini companion PCs truly offers customers choices to fit every need and every personality."

- Kevin Frost, vice president and general manager, Consumer Notebooks, Personal Systems Group, HP.

HP Mini 110 models include the Syncables™ Desktop solution, which provides effortless, automatic synchronization of music, pictures, videos and other files between an HP Mini and a primary notebook or desktop PC.

Pricing and availability

The HP Mini 110 XP Edition and the Mini 110 with Mi is expected to be available in Black Swirl in the United States on June 10 via www.hpdirect.com/go/mini with a starting price of $329.99 and 279.99 respectively.

The HP Mini 110 XP is expected to be available in Pink Chic and White Swirl in the United States on July 8 via www.hpdirect.com/go/mini, pricing to be determined.

The HP Mini 1101 in high gloss black starts at $329 and is expected to be available June 1.