HP Mini 100e Education Edition targets classroom use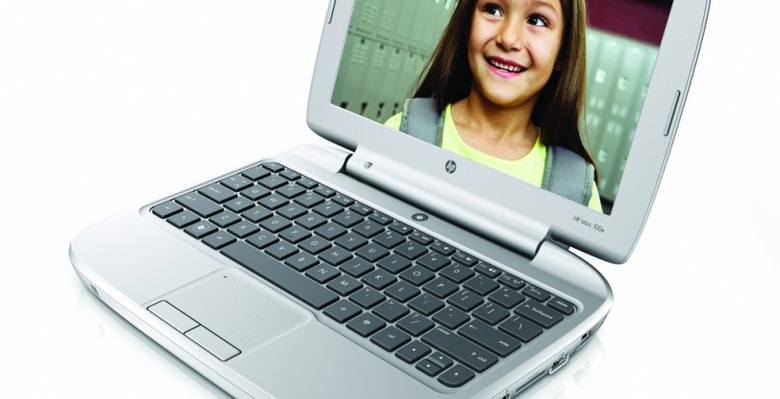 HP has added a new model to its netbook range, the HP Mini 100e Education Edition, and as the name suggests it's targeted at schools rather than mainstream consumers.  Based around an Intel Atom N455 CPU and 1GB of RAM, the Mini 100e is clad in a distinctive toughened casing with integrated carry-handle, reinforced hinges and a spill-proof keyboard.
The deck around that keyboard – together with the base and lid – can be customized with a school's logo.  Connectivity includes WiFi and a dial-up modem, audio in/out, a memory card reader, USB 2.0 and VGA; there's also a VGA-resolution webcam and a choice of 3- or 6-cell batteries.
Like on other HP education-centric netbooks we've seen, there's an LED on the outer lid which shows when the network connection is being used: handy for teachers to spot which kids aren't paying attention and are instead surfing Facebook, but easily silenced with a patch of duct tape.  The HP Mini 100e Education Edition will go on sale in July and be priced according to bundle size; still, HP don't expect it to exceed $300 per unit.
Press Release:
HP Introduces Affordable Mini Netbook for Schools

HP today announced an education-focused Mini netbook designed to help schools around the world acquire affordable, reliable computing technology.

The HP Mini 100e Education Edition features a modern, innovative design with the durability and functionality essential for classroom computing. Complete with an array of hardware and software tools, the HP Mini 100e aims to close the digital divide by offering students and teachers an interactive learning experience at an affordable price.

"HP is committed to helping schools adapt to students' changing needs and to creating solutions that provide better interactivity, connectivity and learning," said Dan Forlenza, vice president and general manager, Business Notebooks, Personal Systems Group, HP. "The HP Mini 100e is an affordable, feature-rich device that helps ensure every student has the tools needed for success in their academic endeavors."

The HP Mini 100e includes productivity, education and security software from Microsoft, such as Microsoft® Office 2010,(1) Microsoft Math and Microsoft Security Essentials.

In addition to the learning software, the HP Mini 100e also features a spill-resistant keyboard helping to ensure greater protection against spills and higher reliability in the classroom as well as an easy-to-see LED that indicates when the PC is connected to a network, thereby enabling better instructor monitoring.

The HP Mini 100e offers optional Wi-Fi Certified WLAN(2) as well as an integrated worldwide modem that is compatible in all countries with the V.92 standard. This enables dial-up internet connection(3) in remote areas so students can easily connect to the web anywhere there is internet service available over a phone line.

HP Mini for the classroom

Created to seamlessly integrate into education environments, the HP Mini 100e features a practical clamshell design starting at only 3.19 pounds. Its 10.1-inch diagonal LED-backlit WSVGA display, 92 percent of full size QWERTY keyboard and an integrated carrying handle allow for maximized comfort and efficiency in the classroom and on the go.

It also includes separate headphone and MIC ports to allow the Mini 100e to easily connect to other devices, along with a VGA webcam(4) that offers enhanced sound quality and reduced echo in virtual conferencing, language courses and interactive multimedia classroom sessions.

Built with added durability features for the classroom environment, the HP Mini 100e includes strong metal alloy hinges with steel pin axles. The Mini 100e also features a customizable back panel, keyboard deck and bottom case – exclusive to HP Minis – allowing customers to personalize their units with their school logo, motto or a picture for added security and personalization.

The HP Mini 100e boasts a wide array of technologies in a tiny package, including a low-power Intel® Atom N455 processor(5) and Intel NM10 Express chipset, enabling the unit to run cooler, use less power and help improve battery life compared to its predecessor. It offers 1 gigabyte (GB) of DDR3 memory for faster data transfer, along with optional flexible battery solutions, including three or six-cell battery options.(6)

Catering to varying education environments, the HP Mini 100e offers Windows® XP Home, Windows 7 Starter(7) or SuSE Linux (SLED 11) operating systems.

A variety of accessories are also available for the HP Mini 100e, to further improve the productivity of students in the classroom and on the go, including:

HP Slip Case

HP Optical Mouse

HP Combo Lock

HP Student Edition Youth Backpack

HP External USB Optical Drive

Pricing and availability

The HP Mini 100e will be available worldwide in July. Pricing will be set on a per deal basis and is not expected to exceed $300 per unit.(8)

More information about the HP Mini 100e and its accessories, including product specifications and images, is available at www.hp.com/personal.