HP Mini 1000 netbook: Hands-on & Review Round-Up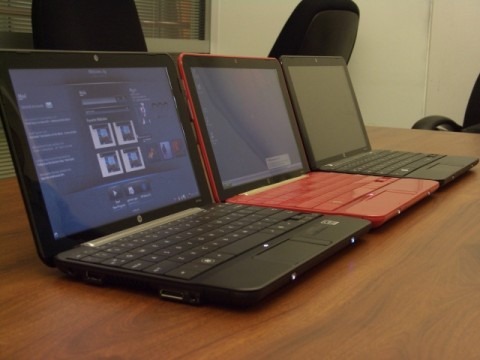 The HP Mini 1000 netbook announcement may only be a few page-scrolls away, but the hands-on opinions are already coming thick and fast.  Its predecessor, the HP Mini-Note 2133, was held in high esteem, and expectations for this new, lower-priced version are big.  From the sound of it HP have delivered in most areas, with the over-arching impression being that, while the specifications are not that unusual, the build and design lift the Mini 1000 above the rest.More first-impressions feedback after the cut
James Kendrick spent some quality time with the HP Mini 1000 netbook in Houston, and first port of call was the keyboard.  With QWERTY being such a contentious aspect of any netbook, you'll be pleased to hear that HP have basically carried over the decent 'board from the 2133 to the new model.  Less satisfying is the drop in resolution, from 1280 x 768 on the 2133 to just 1024 x 600 on the 1000; that's all the more galling when you take into account the new 10.2-inch display option.
Meanwhile Engadget have been whimpering like fanboys over the Mini 1000, praising its "thin-enough" chassis and aggressive pricing.  Even the touchpad, with its less-than-ideal button placement, is saved for the most part by being particularly responsive to taps. 
The new Mobile Internet Experience (MIE) OS, based on Linux and of HP's own creation, gets cautious thumbs-up.  Notebooks.com praise the slickness and recommend the OS for those who want a true companion device, but others are wary that the quality of HP's final included apps might lock users into a less than ideal setup.  New software will be available for MIE, but it will have to go through a validation process first.
Laptop Mag have their review up of the Windows version of the netbook, as well as a hands-on report of the Linux MIE OS.  The former comes in for some criticism for dropping a USB port, and of course the non-standard VGA output (which requires an adapter cable, as HP saved chassis space by using a smaller connector) and absence of a 6-cell battery until January are negative points.  Still, like the 2133 the Mini 1000 is a strong multimedia performer, with decent speakers, and performance overall was good enough to handle high-resolution streaming video.  The hard-drive version of the HP Mini 1000 they played with was slow, though, as well as dropping capacity on rivals. 
In all, though, the consensus is positive.  MIE is still a work-in-progress, but a promising one, borrowing many of the cues from HP's TouchSmart entertainment PC range and resulting in what could be the slickest Linux-based netbook OS to date.  Meanwhile the Windows versions perform well and offer solid, attractive and affordable hardware with obvious consideration given to the industrial design.  HP might just have delivered on one of the best netbooks to date.
Notebooks.com video hands-on: Notebooks.com MIE demo: