HP MediaSmart EX487 Home Server Review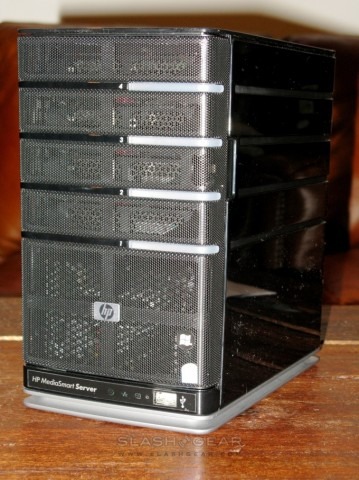 HP's first-generation MediaSmart EX475 was the poster-child for Windows Home Server.  Now, HP are back with their second-gen version, the MediaSmart EX487; the hardware looks the same, but what's under the hood has seen some serious improvements.  Is this the best backup option for Windows and Mac users?  SlashGear set to finding out.
In the box, there's the MediaSmart EX487 itself, a power cable, two CDs – one for installation, one for server recovery – an ethernet cable and both a quick-start setup poster and user manual.  Physical changes over the first-generation server are limited to color: the top panel has gone from silver to black, and the previously dark-blue drive lights have now lightened to match the aqua-blue currently in favor at HP.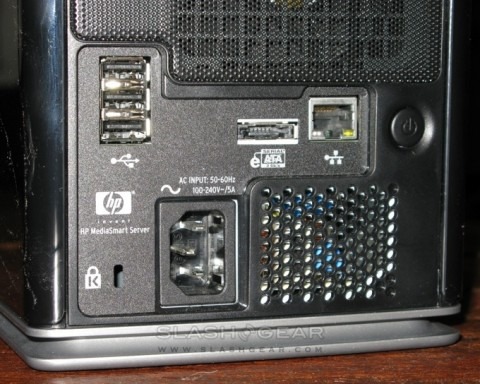 Flip the EX487 around, and there's not much difference there, either.  Connectivity remains at gigabit ethernet, three USB 2.0 ports and an eSATA port, together with power.  On the inside, though, the old processor has been junked in favor of a 64-bit compatible 2.0GHz Intel Celeron 440, future-proofing for the next-gen version of Home Server that's predicted to be 64-bit only.  It's also been paired with 2GB of RAM, rather than the miserly 512MB in the first-gen model.  Given the rapid growth in third-party add-ins for the Windows Home Server platform, it's nice that the stock HP model can comfortably run several of them simultaneously.
Storage is courtesy of the same four SATA drive bays, with HP including four easy-swap trays that can each be released with a single latch.  Two versions of the new MediaSmart are offered from launch: the EX487 we have here, with twin 750GB drives for up to 1.5TB of storage, and the cheaper EX485 with a single 750GB drive.  Adding additional capacity – or replacing drives – is a matter of dropping in a new one and telling Home Server that it's been installed; the OS does the heavy lifting required to get it ready for use.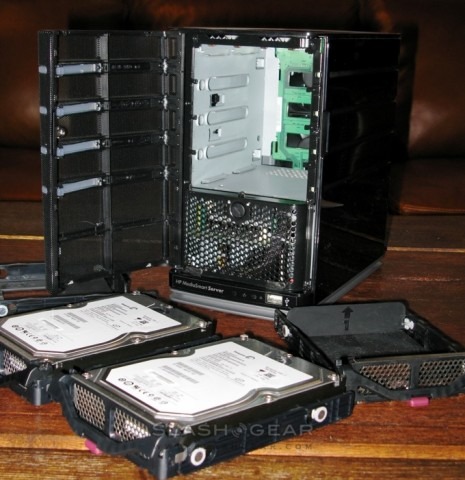 If the hardware has seen evolutionary change, it's the software that lifts the EX487 above the first-generation MediaSmart machines.  The headline feature may be Mac Time Machine compatibility, but there's also Amazon S3 support, new media streaming functionality and a more hands-off way to add content to the server.  Initial setup is easy – power and ethernet – then installing the Connector software on each PC you want to use it with.  There's good news and bad with the Mac functionality; on the plus side, they don't count toward Windows Home Server's ten machine limit; on the minus side the OS X version of Connector is limited to backup and browse functionality, so you'll need at least one PC to use to set everything up.
Control of the MediaSmart is done remotely, via Connector, meaning whichever PC you're on you're able to tweak the settings.  The initial walkthrough allows you to select PCs and Macs to use with the system; anything else is handled by the new version of the Control Center.  A mixture of general Microsoft Home Server functionality and HP's own additions, it's a noticeable improvement over the first-gen machines.  At its simplest you can access shared folders and browse content; the HP MediaSmart Server Summary also gives a single-page overview of status, including capacity, add-ons, available updates, power management and more.  The shortcut menu can be rearranged to suit your common tasks.
Unlike Windows backups, which can include either just data or the whole OS (for speedy re-imaging of corrupted systems), currently only Mac data backups are supported.  Nonetheless, it's a straightforward process: the MediaSmart Control Center app can be used to browse shared folders and upload photos (using the tools we'll cover later), while Time Machine simply shows the server as an available backup disk.  Backups themselves occur just as if using Apple's own Time Capsule, and the MediaSmart can be used as an iTunes server.
PC users have a few more toys to play with, in the shape of HP's new media functionality.  Improvements have been made both to how the MediaSmart gathers its content and how it shares it; the former is courtesy of Media Collector, the latter from Photo Viewer, Photo Publisher, Remote Media Streaming and Twonky Media.
Media Collector is a new tool, and aims to gather up all new images, music and video from any PC connected to the server.  Rather than requiring content be placed in specific back-up folders on each computer, or manually copied across to the MediaSmart, the app periodically scans for anything new.  Duplications are avoided (say, when the same file is on two or more PCs), and there's a long list of supported formats (jpg, gif, tif, pct and mov images; mp3, wma, m4a, aac, wav, m3u and wpl playlists and album art in audio; and avi, mov, m4v, mpeg, mp2, wmv, flv, divx, dvr-ms, m2ts in video).  Scanning can be set to happen  anything from hourly to weekly; however, there's no real granularity of control.  Scans are unpredictable rather than scheduled for known times, and as such you can sometimes find that you computer bogs down as Media Collector churns away in the background.  There's also no way of knowing how long is yet to go, nor what has been copied, as Media Collector lacks status pages or log files.  Nonetheless, it's a far better system than previous, and with some minor control tweaking it would be one of HP's best features.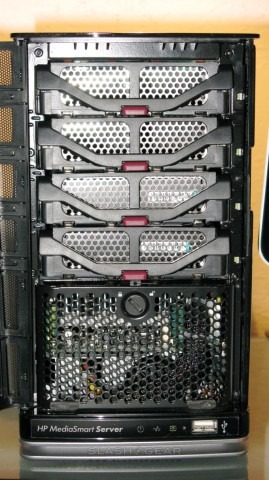 Once media is on the server, there are several ways to access it.  Most straightforward is browsing through the shared folders, but there's also local and remote viewing through Photo Viewer.  The latter requires remote access be setup, again a simple task, which gives you a HP Personal domain to sign into; then you see the same Flash-based browsing interface as you would at home.  You can also invite others to view the photos via email.
HP Photo Publisher, meanwhile, aims to streamline image uploads to popular social networking sites such as Facebook, Flickr, Snapfish and Picasa.  It also lets you quickly set up a self-hosted photo site.  Presets for the common online services are easily selected, and then it's merely a case of picking the photos or folders you want uploaded.  It's quicker and easier than using the online upload tools of the individual sites.  Alternatively, choose the HP Photo Viewer from Photo Publisher, and the system will instantly create a new HTML photo webpage to be hosted on the server itself.  The address to that can then be shared.
Remote Media Streaming is an extension of the MediaSmart's existing UPnP and new Twonky Media abilities.  It allows you to access photos and music from any web-browser, streaming them across the network or across the internet.  Local streams are unchanged from their original quality, while internet streams are automatically compressed to reduce cut-outs.  Unlike more mature streaming services, though, which intelligently balance bitrate to bandwidth, HP's merely transcodes MP3s to 128kbps.  As with the Photo Viewer, a Flash interface is accessible from any remote browser, offering access to playlists, audio tracks and images.  Unfortunately there's currently no way to stream video, but you can listen to music and browse through photo galleries simultaneously.
Media functionality, then, has had a big boost, but HP haven't forgotten their core task: backup.  The latest MediaSmart is not only capable of its own backups, with content shared across multiple drives (if present) to reduce the risk of data loss should one drive fail, but now has Amazon S3 compatibility.  That means local backups can also be duplicated online, through Amazon's 'cloud' storage service.  This charges based on data transfer and total amount stored, and as such the MediaSmart allows you to select which specific folders, out of all of those backed up, will be uploaded.  Setup – aside from initial Amazon S3 registration, which is not fully integrated with the MediaSmart interface – is as straightforward as the original backup settings.  It's worth noting that this option has been added by HP themselves; Microsoft will eventually be offering their own Live Mesh cloud backup for Windows Home Server.
Elsewhere, the changes aren't so noticeable, but neither are they unwelcome.  Power management has been improved, with sleep/wake scheduling now possible together with the ability to wake the server from each connected PC.  HP have finally seen sense and given the MediaSmart the ability to auto-reboot after a power cut; they've also offered a five year 128-bit SSL certificate, courtesy of Comodo, when you activate remote access through their own HP Personal system.  That secures any data transfer when accessing the MediaSmart remotely. 
In all, the HP MediaSmart EX487 is the new poster-child for Windows Home Server.  Its predecessor paved the way with sensible, reliable hardware and decent design; this second-generation machine pairs that with improved software capabilities.  Mac compatibility will get the headlines, given the Apple brand allure, but the media tools make uploading, viewing and sharing so straightforward that you'll finally be able to spend more time looking at pictures and listening to music than you do organizing them.  If your New Year's Resolution is to be more conscientious with your backup routine, the HP MediaSmart Server EX487 would be a very good place to start.
The HP MediaSmart Server will be available to order from January 5th 2009.  The EX487, with 1.5TB of storage, will be priced at $749, while the smaller 750GB EX485 will be priced at $599.
Press Release:
HP Launches New Home Server for PCs and Macs

HP MediaSmart Server centralizes digital media and files for backup, remote access, sharing and uploading to social media sites

PALO ALTO, Calif., Dec. 29, 2008 – HP today launched a home server designed for use with both Windows and Mac computers.

Based on the Microsoft Windows® Home Server platform, the HP MediaSmart Server ex485/ex487 is a central repository for automatically backing up and accessing digital music, videos, photos and documents from multiple computers on a home network.(1)

The MediaSmart Server automatically organizes files across all PCs, streams media across a home network and the Internet,(2) and publishes photos to popular social networking and photo sharing sites.

"A growing number of digital-savvy households have both Windows and Mac computers, with hundreds and sometimes thousands of media files and documents scattered across these devices," said Jason Zajac, vice president of strategy, Worldwide Attach Group, HP. "The HP MediaSmart Server protects, stores and organizes this content from anywhere on a network so consumers can access and share it any place they are connected."

"HP continues to innovate on the Windows Home Server platform giving consumers even more options to enjoy and protect their precious memories and valuable data," said Charlie Kindel, general manager, Windows Server Solutions, Microsoft. "We believe consumers will embrace the new MediaSmart Server as one of the most exciting computing products for the home."

MediaSmart Server ex485/ex487 features include:

· HP Media Collector: conveniently schedules the MediaSmart Server to copy and centralize digital files and libraries from networked PCs

· Media Streaming: remotely streams photos and music to any Internet-connected PC or Mac

· Server for iTunes: centralizes iTunes music libraries on the server for playback to any networked Mac or PC running iTunes

· HP Photo Publisher: easily upload photos to Facebook®, PicasaTM Web Albums and Snapfish(3)

· HP Photo Viewer: allows easy sharing of photos with friends and family

· PC Hard Drive Backup: backs up networked PCs via the Windows Home Server backup feature

· Mac Hard Drive Backup: backs up Macs running Leopard using Apple Time Machine software

· Server Backup: duplicates designated shared folders to a separate hard disk drive

· Online Backup: duplicates designated folders to Amazon's S3 online backup service for an additional layer of protection

· Smart Power Management: can schedule times for server to go to "sleep" and "wake up," saving on energy costs

· Processor: Intel® Celeron®, 2.0 GHz 64-bit. Two gigabytes (GB) of 800-MHz DDR2 DRAM now standard on MediaSmart Server

· Expandability: additional drives can be added for up to 9 terabytes (TB)

"Customers are always looking for the right mix of features and ease-of-use when choosing digital home products," said Danielle Levitas, group vice president, consumer, broadband and digital marketplace at IDC. "HP's focus and investment in software allows it to deliver a home server with compelling features for Mac and PC users while offering a great customer experience that helps simplify the complexity of the connected home. This unique offering will help expand the home server market."

Pricing and availability

Manufacturer's suggested retail price for the HP MediaSmart Server ex485 with 750 GB of hard disk storage is $599 while the HP MediaSmart Server ex487 with 1.5 TB is $749.(4)

The HP MediaSmart Server can be pre-ordered beginning on Jan. 5, 2009, from Amazon.com, BestBuy.com, Buy.com, Frys.com and NewEgg.com; it is expected to ship in February.

The first 200 consumers who visit HP Home & Home Office (www.hpshopping.com) or call +1 888 271 2982 between Jan. 5 – 11, 2009, to reserve a MediaSmart Server and use coupon code "AC5674" will receive a $50 savings off their purchase.(5)

More information is available at www.hp.com/go/mediasmartserver.

About HP

HP, the world's largest technology company, simplifies the technology experience for consumers and businesses with a portfolio that spans printing, personal computing, software, services and IT infrastructure. More information about HP (NYSE: HPQ) is available at http://www.hp.com/.

Note to editors: More news from HP, including links to RSS feeds, is available at www.hp.com/hpinfo/newsroom/.

(1) Wired or wireless home network required.

(2) Internet access required and sold separately.

(3) Services are subject to change without notice and some services may not be available at time of product purchase.

(4) Estimated U.S. retail prices. Actual prices may vary.

(5) Valid for HP Home & Home Office (www.hpshopping.com) Internet and call center purchases only. Coupon valid on first 200 redemptions, or while supplies last. Any unused portion will be forfeited. Each coupon code is limited to one usage per customer; one coupon code per checkout. Offer void where prohibited, taxed or restricted by law. Non-transferable. Not valid retroactively on previously purchased items. Not valid for any resale activity as defined by HP Home & Home Office Store. Coupons may not be used to purchase gift cards. Not valid on instant rebates or clearance sales. May not be permitted with certain bundle offers. Not valid on: Academic and Employee purchase programs, HP Employee purchase program, Refurbished products, Extended Service Plans, Compaq Presario and HP Pavilion desktops with Intel Celeron or AMD Sempron processors or Compaq Presario CQ50Z customizable notebooks. For complete coupon conditions, see "Coupon Information" in the "Customer Service" section at www.hpshopping.com.