HP iPAQ Voice Messenger & iPAQ Data Messenger smartphones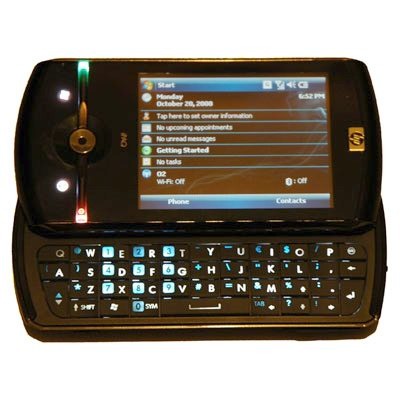 HP announced two new consumer smartphones today, and they've thankfully dropped convoluted numerical product names in favor of nice, easy to understand words.  The iPAQ Voice Messenger is a candybar smartphone with a 2.4-inch 320 x 240 display and 20-key SureType-style keyboard, while the iPAQ Data Messenger has a 2.81-inch 320 x 240 touchscreen and a slide-out QWERTY keyboard.  Both run Windows Mobile 6.1, have WiFi b/g, HSDPA and quadband GSM.
Each has aGPS, Bluetooth 2.0 +EDR, a 3.1-megapixel camera and a microSD slot (up to 8GB supported, apparently) for augmenting the onboard 256MB of ROM storage.  There's also, thankfully, a standard 3.5mm headphone socket, which is an improvement on much of HTC's range, together with a microUSB socket for synchronizing and charging.
The iPAQ Voice Messenger measures 5.0 x 1.36 x 11.4 cm and weighs 107g; the iPAQ Data Messenger measures 5.7 x 1.74 x 11.4 cm and weighs 160g.  Electricpig managed to score some hands-on time with the Data version, finding it well-specified but, with no attempt to garnish or disguise the standard Windows Mobile GUI, far less usable than rivals such a the HTC Touch Diamond or the Apple iPhone.
Full release and pricing information is scarce; however, according to Engadget, Vodafone in the Netherlands will be selling the Voice Messenger for €399 ($532) on November 5th and the Data Messenger for €499 ($665) on November 22nd.