HP ENVY Recline 23 And 27 TouchSmart AIO Fill The Gap Below The Desk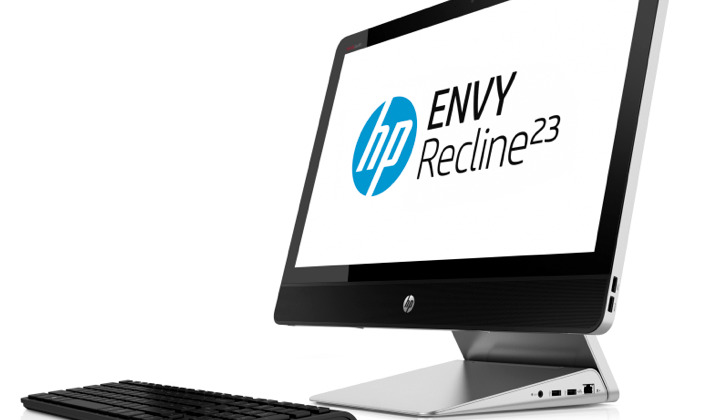 With the dawning of the age of touchscreen friendliness with Windows 8 in the PC world, HP has made more than one innovative move in filling every gap that appeared in usability options, this week with the HP ENVY Recline series. The ENVY Recline 23-k030 TouchSmart All-in-one, ENVY Recline 27-k050 TouchSmart All-in-One, and special Beats Audio edition Recline 23 all offer a neck and a base configured uniquely to hold up a touch display for your ever-expanding list of wants and needs in the massive display-toting PC market.
The way you use these desktop machines is up to you. HP has been clear in saying that they've made these machines to respond to user tests of all manner of touch and non-touchscreen devices, finding the range of positions the average person uses said devices in, and crafting a device that can do it all. What you get is a display that's light enough to be positioned on a neck that holds it up as a base that's heavy enough to hold the whole amalgamation up without tipping.

You can push the display up to be 90 degrees (standard, that is), or pull it down to any angle down below where you'd normally have to stop on a standard adjustable display. Here you can also pull the display down over the side of whatever surface you're on – a table, more than likely – so you can use it in a way HP found users worked with most comfortably – on a touchscreen, that is.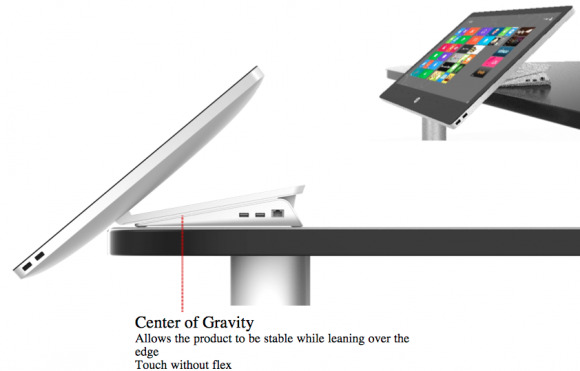 The 23-inch model here works with an Intel Core i7 processor and 1920 x 1080p display resolution with 8GB PC3-12800 DDR3-1600 SDRAM memory under the hood – expandable to 16GB. Also under the hood is an NVIDIA GeForce GT 730A dedicated graphics card with 1GB DDR3 dedicated memory.

The differences between this model and the Beats model with the same size display are in the look and in the audio power they both possess. UPDATE: And the Beats Edition works with an Intel Core i5 processor rather than the standard 23-inch model's Intel Core i5 architecture.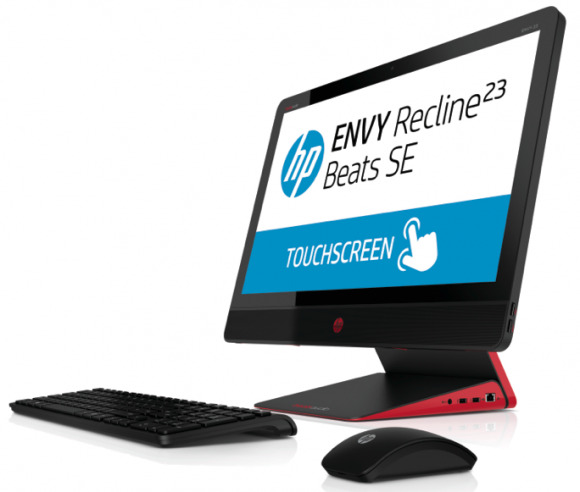 While the standard 23-inch model works with a dual speaker setup and an optional subwoofer, the Beats edition works with quad speakers and a subwoofer standard. Both devices work with Beats Audio software and audio enhancements. The Beats edition is also red and black while the standard edition is silver and black – one is a bit louder than the other in more ways than one.
Meanwhile the 27-inch model ENVY Recline TouchSmart AIO works with a 1920 x 1080p display backed up by 4th Generation Intel Core i5 processor technology and an NVIDIA GeForce GT 730A graphics card. This setup is paired with 1GBDDR3 dedicated memory as well as 12GB PC3-12800 DDR3-1600 SDRAM memory – that's 8 and 4GB expandable to 16GB. This larger model also works with NFC built-in and the same speaker setup as the standard 23-inch model.

The 23-inch ENVY Recline TouchSmart All-in-one PC will be available starting on the 6th of September for a cool $1,349 USD while the Beats Edition (available on the same day) will be a bit cheaper at $1,249 – that's what you get for knocking out a bit of processor power for a bit heftier speaker construct.
HP also notes that "other configurations" (of the 23-inch PC) will be available later this fall starting at $1,099 USD. The HP ENVY Recline 27 TouchSmart All-in-One PC will be hitting stores on the 6th of September as well for $1,399 USD.