HP Envy Phoenix 810 Gaming PC Introduced With Core I7 Extreme And Liquid Cooling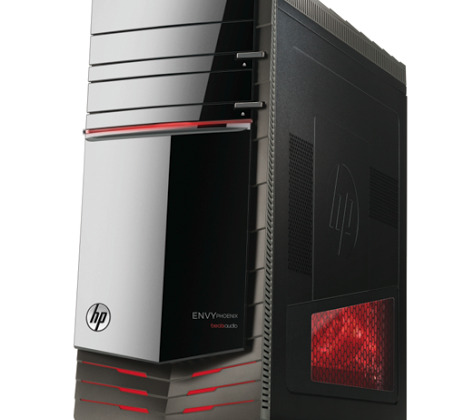 The PC gaming market will be gaining a new system starting next month (October 16, to be precise), with HP rolling out the introductory carpet for its HP Envy Phoenix 810 Gaming PC. If the computer looks familiar, it should: last year we got our hands on the HP Pavilion HPE h9 Phoenix gaming unit, which is essentially an older version of this upcoming machine.
The computer isn't the slimmest or the most powerful gaming PC out there, but for the price it will fall into the sweet spot for certain gamers at $1200 USD, while the hardware is robust enough to meet most players' needs. Visually speaking, the setup is similar to the aforementioned HPE h9 Phoenix machine, complete with the red accent lighting and glossy black front panel.
The side of the Phoenix 810 is windowed for a look inside its red-glowing bowels, and the chassis itself is roomy enough to allow for an additional three hard drives if desired. Toss in the angled lighting on the front and the selective vent placement along the side, and the system could certainly find placement in a design-conscious gamer's setup.
As far as hardware goes, HP was light on the details, but we do know there is an Intel Core i7 Extreme processor under the hood. Depending on taste, gamers will be able to choose either an NVIDIA or AMD graphics hardware option, and audio comes by way of Beats. Furthermore, the PC uses a liquid-cooling setup. We'll let you know when more details arise, but until then, check out some of the other HP news from this week.