HP ENVY 13 and 15 Notebook PC hands-on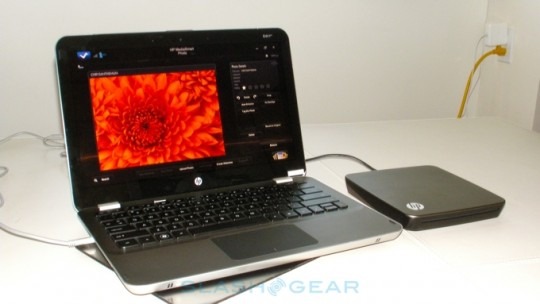 HP has unveiled their holiday line-up, and the standouts are obviously the flagship HP Envy 13 and Envy 15 notebooks.  Toting 13.1-inch and 15-inch LCD displays respectively, the Envy 13 tips the scales at 3.74lbs and measures just 0.8-inches thick, while the larger Envy 15 is 5.18lbs and just 1-inch thick.  The Envy 13 uses Intel's Core 2 Duo SL9400 processor, while the Envy 15 gets the new Core i7-720QM CPU.
Graphics are ATI Mobility Radeon HD 4330 512MB for the Envy 13 and Radeon HD 4830 for the Envy 15, while they support up to 5GB and 16GB of DDR3 memory respectively.  Connectivity includes WiFi a/g/n, Bluetooth, gigabit Ethernet, two USB 2.0 ports (three on the Envy 15, the third being a combo eSATA/USB), HDMI and audio in/out, together with a 2-in-1 memory card slot; the Envy 13 has a 250GB 5,400rpm hard-drive, while the Envy 15 kicks that up to a 320GB 7,200rpm drive.
The Envy 15 has an integrated DVD burner while the Envy 13 has an external optical drive.  As for battery power, the 13.1-inch machine comes with both a 4-cell Li-Ion internal power-pack and a 6-cell battery slice that the ultraportable can optionally sit on top of; together HP estimate they're good for 18hrs of runtime.  The Envy 15, meanwhile, has a 4-cell standard battery.  HP loads both notebooks with HP QuickWeb, a fast-booting Linux shell that offers speedy Internet and media access without booting into Windows 7.
We had a chance to catch up with HP and spend some time with the two new Envy notebooks, and came away impressed.  The widescreen displays are clear and particularly bright, while build quality is very high.  Their obvious competitors are Apple's 13- and 15-inch MacBook Pro notebooks, and though it's too early to say conclusively – without proper longer-term review units – whether they equal or exceed the well-respected Cupertino machines, the combination of solid metal construction, capable specifications and lengthy battery life do leave us hopeful.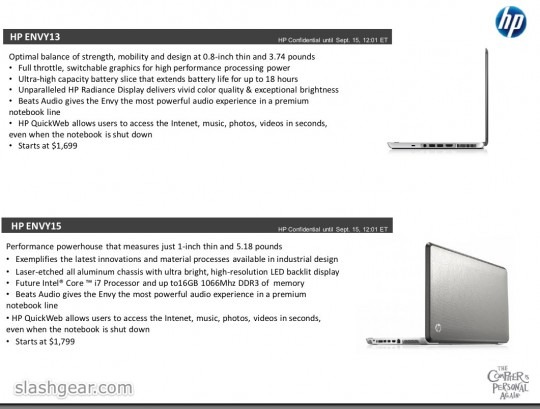 The HP Envy 13 starts from $1,699, while the HP Envy 15 starts from $1,799.  Check out the hands-on photos below for more details.