HP EliteBook gain Sure View privacy screen option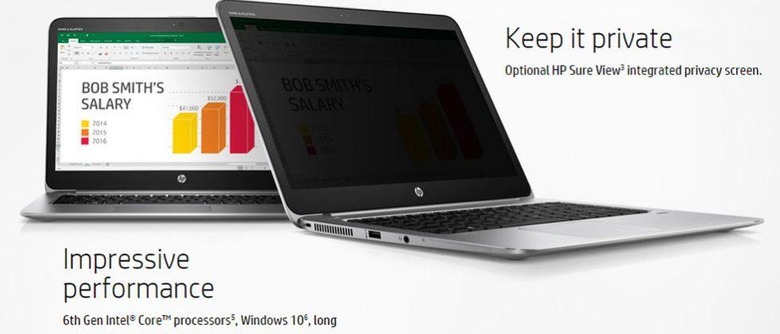 Depending on what industry you work in, you may be legally required to keep customer or patient data as secure as possible meaning that no unauthorized people can see the information. That can be a challenge if you are working in a public place where anyone can simply look over your shoulder and see what you are doing. HP has a new option on two of its EliteBook notebook computers that integrates a privacy screen that blocks those over the shoulder readers from seeing what you are working on called Sure View.
Sure View is an option on the EliteBook 1040 and the EliteBook 840 and is a feature specifically designed to prevent visual hacking and can be activated at the press of a button. "Today's millennial workforce is increasingly mobile, creating new data security challenges for businesses as confidential information can be more easily hacked from a user's screen — a process called visual hacking," said Alex Cho, vice president and general manager, Commercial PCs, HP. "The addition of HP Sure View to our PC security solutions helps address the risks associated with visual hacking and gives customers the freedom to work more confidently and productively in public spaces with the touch of a button."
Sur View was developed using 3M privacy technology and eliminates the need for users to carry additional tools to guard sensitive information. To activate Sure View the user presses the F2 key putting the PC into privacy mode. That mode reduces up to 95% of visible light when viewed at an angle making it hard to see what is on the screen of the notebook.
Sure View will be available in September as an option for the EliteBook 1040 full HD touch and non-touch versions of the EliteBook 840. Pricing details on the option are unannounced at this time.
SOURCE: MarketWatch