HP dv2 and Blu-ray preview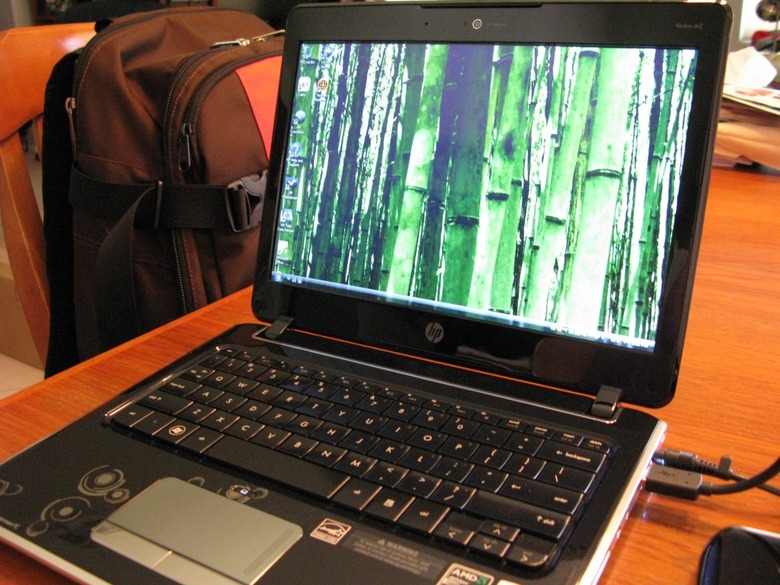 SlashGear was lucky enough to get sent a brand new HP dv2 and accompanying Blu-ray drive. The ultra-portable features a 12.1 inch screen, up to a 500GB hard drive, up to 4GB of RAM, and up to a 512MB ATI graphics card to work that Blu-ray magic. The dv2 is running on AMD's new Yukon platform, a new design from AMD competing with Intel's ULV single core processors (Celeron and the like). The dv2 comes out at .93 inches thin, and will be very affordable for the offered features.
The dv2 is running Vista Home Premium, and plays Blu-ray movies beautifully on the display. The dv2 has an HDMI port for making it easy to use the dv2 as your home Blu-ray player with your HDMI television.The machine is well built, perfect size for carrying around, and the 12.1" screen is big enough to get some serious work done, but the weight and size are kept manageable. This laptop is a great consumer device, meant for the casual user camped out at Starbucks, who wants to watch movies, surf the internet, or manage photos. However, it has been promised to me that the dv2 will game with the best of them, thanks to the ATI graphics card. Fear 2, Call of Duty: World at War, and others are said to run amazingly well on this tiny device, showing the capability of a good GPU paired with a less power-intensive processor.
We haven't seen AMD processors in netbooks or ultra-portables until now, and the accompanying graphics power is promised to offer some serious boosts in speed. We're in the process of benchmarking our dv2 against an Atom based machine, so we'll have the results for you there. We got the chance to talk to AMD once they sent us the machine, and they had some good points about designing the Yukon for larger machines, and pushing it down into smaller portables. We'll see how the Yukon delivers with the benchmark results. Until then, here's a preview of the HP dv2 and the amazingly small USB Blu-ray drive.
[vms 2576bd1ac5aaf16b3fca]