HP Compaq Elite 8300 and Pro 6300 towers aim for business market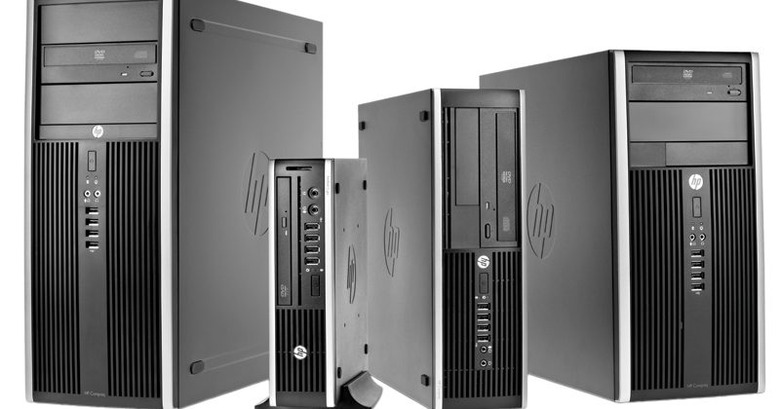 As part of Hewlett-Packard's massive spring debut, they're showing off a pair of desktops in the dual-orientation tower form factor. Both are being released under the old Compaq label, but you won't find the familiar red branding here: the desktops look morel ike scaled down versions of HP's Z workstations. Both machines come in full-sized or small form factor versions.
The Compaq Elite 8300 is the smaller of the two in its USDT model, designed to work as either a stand-alone machine or a thin client. It'll do well enough as the former, with Intel Ivy Bridge processor options and OS offerings from Windows 7 Home Basic all the way to Ultimate. FreeDOS is an option as well, for those who've already bought licenses. Different configurations come with either two or four DDR3 DIMM slots, and a n SD card reader is an option, as are NVIDIA or AMD graphics over integrated Intel. Four USB 3.0 ports, VGA and two DisplayPorts (one on the small version) adorn the back.
The Pro 6300 is a little less configurable – while it gets the same Core processor and RAM options, Intel integrated graphics are your only choice. The 6300 gets an impressive 4 USB 3.0 ports on the rear, but loses a MiniPCI port. Both the Compaq Elite 8300 and the Compaq Pro 6300 will have various optical, hard drive and SSD options. Both Compaq desktops will be available on June 4th, with the Elite 8300 starting at $679, and the Pro 6300 starts at $579.