HP announces the new HP Firebird with Voodoo DNA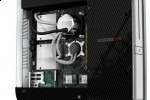 Today HP has finally announced the new HP Firebird with Voodoo DNA. This high-performance desktop PC delivers luxury in an energy-efficient design to suit just about anyone. The successor to the HP Blackbird 002 was created with a rich technology innovation in an ultra-quiet, energy-efficient package.
Built for performance the Firebird is designed for photo and video editing, music creation, gaming, and other demanding tasks. A new advanced thermal management system was used including everything from a factory-sealed liquid cooling system to the energy-efficient components and external power supply, help jeep the PC running better than many gaming PCs.
You will find an Intel Core 2 Quad processor and (3) dual NVIDIA GeForce 9800S small form factor graphics card in a SLI configuration that is hot swappable with 320GB dual hard drives.  You will be able to get the HP Firebird with Voodoo DNA online starting on January 9th. If you can wait, retail locations will be getting this PC on February 1st for $1,799.