HP And Voodoo Team Up For Laser Mice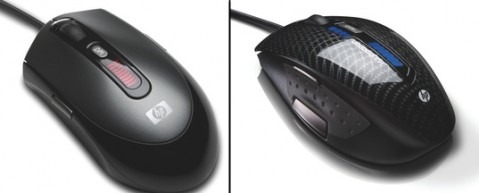 Awhile back, HP bought out Voodoo. But now they've teamed up on some laser mice that are sure to catch the attention of avid computer users. However, gamers will especially take note of these slick and functional devices.
The HDX Laser Mouse has five programmable macro buttons and supposedly five times faster than a standard mouse. It features variable DPI from 400-2400, profile settings, and up to a 500Hz polling rate. It also appears to be ambidextrous and will feature a laser-based sensor.
The mouse on the right, on the other hand, is the Laser Gaming Mouse with Voodoo DNA. With an even more obvious gaming focus, this mouse is expected to carry specs similar if not identical to the HDX and appears to be right-handed. It also feature VoodooDNA GUI software. Regardless, it looks to be sporting a pretty cool design and the price is fairly reasonable at $40 for the HDX Laser Mouse and $60 for the Laser Gaming Mouse with Voodoo DNA.
[via CrunchGear]