HP and Vivienne Tam debut new digital clutch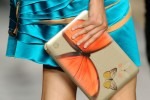 Last week I mentioned that HP and Vivienne Tam were teaming up for a new edition of the digital clutch that the pair debuted last year. The digital clutch was nothing more than a HP netbook with a fancy cover design aimed at women looking for fashion to go with their tech.
What we didn't know when the new digital clutch was introduced was exactly what it would look like. Over the weekend, Tam debuted the new HP machine on the runway during her spring 2010 clothing line launch.
The machine has butterflies on a beige cover and isn't quite as fancy smancy looking as the slick red digital clutch unveiled last year. HP has still offered no specs on the machine, but odds are it is another netbook. The new machine looks larger than a netbook in the picture HP provided, but that could simply be the waif model holding it throwing off the perspective.