HP and Vivienne Tam announce plans for new digital clutch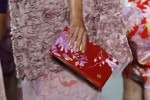 I know several women who like technology but only buy devices that have some style or at least a girly hue to them. I'm talking pink mobile phones, pink notebooks, and Bluetooth headsets that are all girl when you look at them. HP and designer Vivienne Tam teamed up late last year for a digital clutch just for this type of woman.
The original digital clutch was a netbook with a cover designed by Tam. Under its cover was the same Intel Atom processor running at 1.6GHz, 1GB of RAM, and 80GB of storage that was common in any run of the mill netbook at the time.
HP and Tam have announced that they will be bringing a new digital clutch to market for the fashion conscious tech diva in the spring of 2010. The specs and looks of the machine are unknown at this point and the machine will debut during New York Fashion Week on the runway with Tam's show. The clutch will be based on Tam's spring 2010 collection and feature a design inspired by the Chinese love story "Butterfly Lovers."