HP ad for Ultrabook computer surfaces, HP thinness inbound?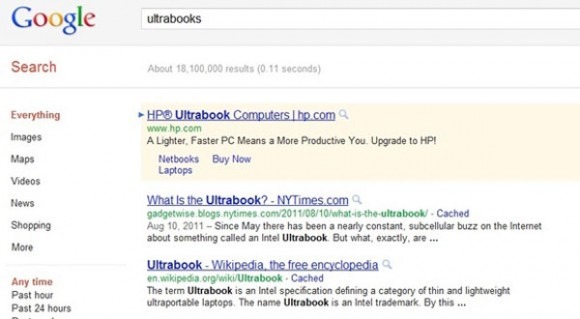 There was a lot of belly aching with computer makers surrounding the Ultrabook platform from Intel. The source of the bother for the computer makers was that Intel promised the Ultrabook would come in at under $1,000. The problem was that major computer makers claimed that there was no way to build the machine and make money at that sales price thanks to the cost of the hardware.
After some more details started showing up it turned out that the base level machines were to be the Ultrabooks that sold for under $1,000. The first of the Ultrabooks that was expected to come to market was from Asus. There was also a rumor that HP might beat Asus to market. Today a Google Adwords ad has surfaced that is for HP Ultrabooks that were rumored.
The ad gives no indication of price or when the computers would launch. The fact that HP is already advertising the machines must mean that they will be coming soon. Since it appears that all the Ultrabooks will be running virtually identical hardware these machines will end up competing on price like netbooks did I expect.
[via Ultrabooknews]