HP 2016 OMEN gaming lineup includes an omen-ous cube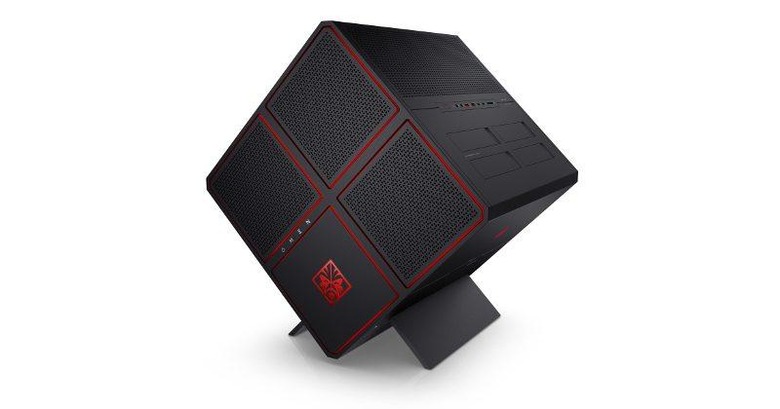 Pardon the pun that was just too hard not to make. PC gamers are quite a passionate and sometimes eccentric bunch that loves to give some character to their rigs. From Alienware's out of this world lights to HP's new OMEN X gaming desktop, which you would hardly associate with a desktop, much less a gaming PC, when you look at it. That's because not only is it in the shape of a cube, it is also set up to stand on one of its corners, not on one of its flat faces.
We've seen our fair share of cube-shaped desktop PCs, but most of those are rather plain compared to the HP OMEN X. In addition to the glaring red markings on its ebony chassis, its default orientation will undoubtedly make it the center of attraction, at least for fresh eyes.
But lest you think the OMEN X is just about looks, the PC is veritably a gaming computer. Powered by a sixth gen Intel Core i5 or i7, the box is ready to hold up to two NVIDIA GeForce GTX 1080's or two AMD Radeon R9 Fury X's, making it ready for 4K gaming as well as VR experiences. The cube also boasts of a "revolutionary" thermal management thanks to its tri-chamber design and tool-less access to its internal parts, allowing for painless customization.
The HP OMEN X will be available at US retailers starting October 16 and will start at $2,099.99. At HP.com, however, it will start sooner, on August 17 to be precise, at $1,799 or even cheaper at $599.99 for an empty chassis.
For those who want a more traditional, but also more mobile, gaming setup, HP is launching the HP OMEN 17 gaming laptop. While not as flamboyant as the OMEN X, this no-nonsense 17.3-inch computer has enough muscle to power VR applications and games and 4K output wherever you go. Provided you have the needed peripherals, of course.
While also sporting sixth gen Intel Core i5 or i7 processors, the OMEN 17 is more limited in its choice of graphics cards, down to only NVIDIA's GTX 1060 or GTX 1070. Both, however, are still very much gaming capable and features NVIDIA's G-SYNC technology. And the OMEN 17 isn't lacking in design touches either, with a Dragon Red backlit keyboard to highlight its lineage.
The HP OMEN 17 will be available on HP.com with a starting price of $1,599.99.
In addition to these two gaming PCs, HP has also revealed gaming peripherals as part of the OMEN family. That includes an OMEN X by HP Curved Display, which is still a rare type of monitor as far as gaming is concerned. The monitor supports NVIDIA G-SYNC for tear-free visuals. There are also new accessories under the OMEN by HP with SteelSeries banner, including an OMEN Headset, OMEN Keyboard and OMEN Mouse with customizable color schemes, and even an OMEN Mouse Pad.
The OMEN Curved Display won't be available until early 2017, but the OMEN SteelSeries accessories will go on sale in mid-September, with the following prices:
• OMEN Headset – $79.99
• OMEN Keyboard – $99.99
• OMEN Mouse – $59.99
• OMEN Mouse Pad – $19.99