How to use the One Hand Operation + Good Lock app from Samsung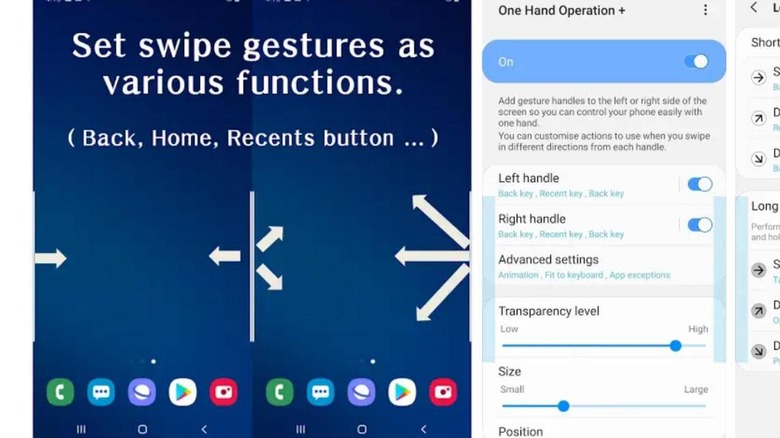 Samsung is often criticized for overloading its TouchWiz now One UI experience with too many features. Funnily enough, it actually has a lot more in mind for users of its Galaxy phones. Fortunately, it has opted to separate those into distinct apps that aren't installed by default. Unfortunately, for some strange reason, Samsung has decided that its Good Lock apps aren't fit for markets other than the US and Korea. Good thing, then, that Samsung has released one part of that suite on Google Play Store and now you can use the One Hand Operation + (yes, there's a blank space there) to make large phones a bit more usable.
Samsung naming convention is a bit confusing. On thee one hand, Good Lock is indeed an independent app that gives you more options in customizing a Galaxy phone's lock screen. On the other hand, it also refers to a group of loosely related apps that also customize the appearance of parts of the phone like the navigation bar, quick shortcuts panel, recent apps, and the like. There are even apps that setup automated routines or implement one-hand gestures like One Hand Operation +.
Hopefully as the start of a new trend, Samsung has released One Hand Operation + on Google Play Store so that Galaxy phone owners outside of the US and Korea will be able to take advantage of one-hand gestures. There's a variety of apps out there that offer the same functionality but, naturally, One Hand Operation + has the advantage of integrating better with system actions since it's made by Samsung in the first place.
Once installed from Google Play Store, One Hand Operation + presents a rather straightforward list of options. The app uses both sides of the screen as gesture triggers and, unfortunately, there is no option to turn one off or different trigger sizes separately. You can, however, assign different actions to either side at least.
By default, three actions are recognized: a horizontal swipe to the center, a diagonal swipe up, and a diagonal swipe down. You can also toggle a switch that basically adds three more of the "swipe and hold" type of gesture, bringing the total number of gestures to six. There is quite a long list of actions you can assign to those gestures, from simply recreating what the navigation buttons do to pulling down the notification panel to even calling the default AI assistant. Curiously, there is no action to pull up the app drawer.
One Hand Operation + is a perfect complement to One UI's new gesture-based navigation system which simply assigns the three standard Android buttons to invisible zones at the bottom of the screen. With some wider phones, reaching the area on the opposite side of the phone is difficult if not precarious. Like with any other one hand gesture utility, it's not perfect and it sometimes clashes with some app's side swipe gestures, not to mention Samsung's own Edge screen. But it's a great tool to have especially considering today's large phone screens.
Sadly, it's only available for Samsung phones, given how it integrates with the UI. Hopefully, Samsung will give the same treatment to other Good Lock apps and make them widely available on Google Play Store as well.