It happens every election season: things get heated, a politician gets a lot of attention, and people start vowing to move to Canada if he or she ends up victorious. It appears Super Tuesday was the tipping point this time around, and many are pointing to Trump as the cause. Google's top search following Trump's (frankly baffling) victory was 'How to move to Canada,' with Google confirming the influx of queries.
Google Trends decided to get political, and fired off a tweet reading: "Searches for "Move to Canada" are higher than at any time in Google history #SuperTuesday." And, yes, the same searches spiked after George W. Bush was re-elected. This time around, though, the numbers more than doubled: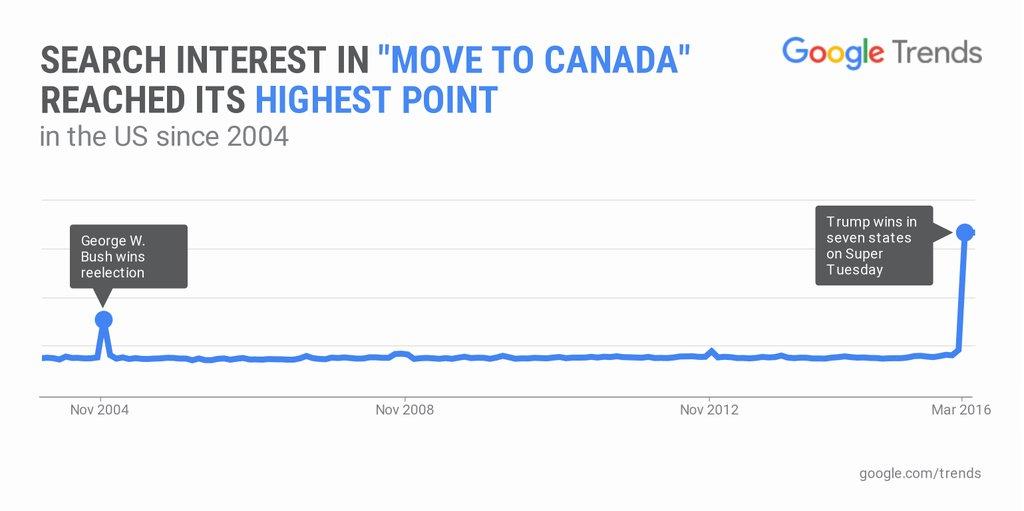 Trump, in case you missed the results, won in seven states on Super Tuesday, beating out other republican candidates including Ted Cruz and Marco Rubio. Those states are Vermont, Massachusetts, Virginia, Tennessee, Arkansas, Alabama, and Georgia. Cruz took Texas, Oklahoma, and Alaska, and Rubio only scored Minnesota.
On the Democrat's side of things, Hillary Clinton beat out Bernie Sanders, taking seven states as well: Alabama, Arkansas, Texas, Georgia, Tennessee, Virginia, and Massachusetts. Sanders won in Colorado, Oklahoma, Vermont, and Minnesota.
Google Trends, of course, is a hot bed of interesting data where you can check out selected trends following the Super Tuesday results. For example, you can see which politician was most searched in each county in some states, as well as searches for each candidate in both parities by the hour. On the Republican side of things, Trump was the top search query in all seven states among red politicians.

Searches for Sanders and Clinton, meanwhile, were much, much closer in all states except Vermont, where Sanders was notably more popular. In most cases, searches for the two were just about the same:

Interested in overall Election 2016 search data? Google has put together an interactive page on trends with all the colorful, beautiful data. See it here.