How to get the Gboard for Android update on your phone (APK download)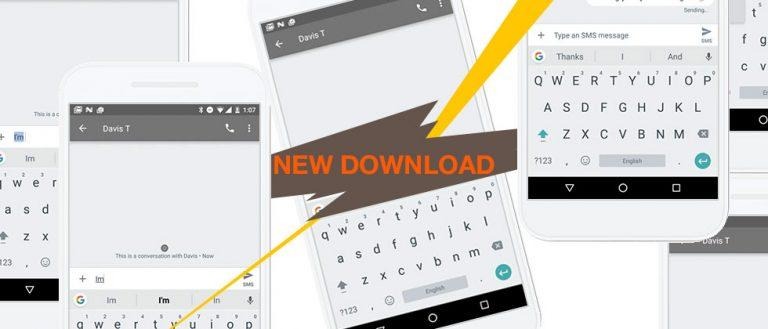 This week we're having a peek at the newest version of Gboard for Android, a keyboard made by Google. This keyboard goes above and beyond what the normal, traditional onscreen keyboard offers, giving suggestions for all sorts of thing. This newest update – which requires a new download – includes web, GIF, and emoji search, as well.
Whats odd about this update is that the announcement from Google came a bit after the update was released. The most recent update to this app came yesterday – and all the features Google announced today came with it. This version of the app allows a much more diverse set of ways to express one's self with images – not just letters – in a keyboard.
In addition to Google Play, this newest version of Gboard for Android is available on APK Mirror for download in APK form for Android devices. As per usual, any download done outside the confines of Google Play is entirely the user's own responsibility. SlashGear does not take any responsibility for what happens beyond this website's borders.
This newest version of Gboard for Android works with a wide variety of features, the newest of which is the ability to share GIFs in a number of supported apps. Hangouts and Allo work with this, of course, but so too do Facebook Messenger and Snapchat.
Features to try in Gboard for Android:
1. Go to Gboard Settings, select theme.
2. Go to Gboard Settings, tap the Theme icon in quick features.
3. Tap the Translate icon in the quick feature menu.
4. Right-to-left languages can now tap on the Arrow or G to search.
5. Emojis and GIF searches should now appear automatically.
6. Press and hold Enter to choose from hundreds of emoji in any app.
7. Learns as you type: Type a word once and you can gesture type it or find it in suggestions next time.
8. Long press a suggestion to remove it from your "learned words" or the keyboard dictionary.
9. Gboard Settings, Dictionary, Sync learned words.
10. Slide finger across space bar to move cursor where applicable.
11. Gesture delete: Slide left from the delete key to quickly delete multiple words.
12. Settings, Preferences, Number Row (always on number row)
13. Settings, Preferences, Long press for symbols.
14. Long press on Enter and select the thumb icon.
15. Gesture from the "?123" key to temporarily switch to the symbols keyboard and insert a symbol.
16. Gesture from the SHIFT key to a character to capitalize it.
Above you'll find a number of fun features – or otherwise not-quite-simple to activate features – in the keyboard. These keyboard shortcuts are part of the diverse collection of oddities which make Gboard for Android one of the most unique keyboards for any touchscreen anywhere.