How to get that massive Minecraft Update [1.1 Discovery download]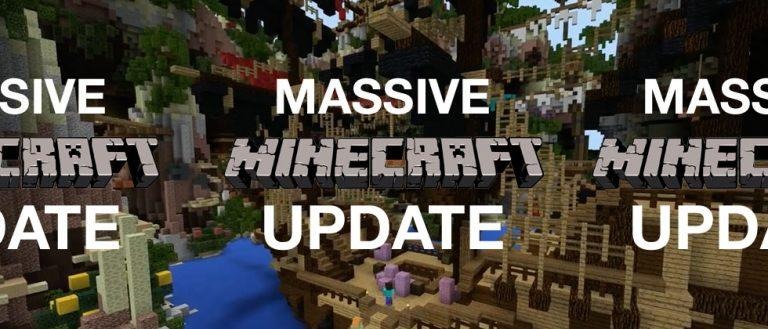 Users of the forever-popular game Minecraft will see an update to the game on Bedrock Engine platforms. That includes Windows 10 devices, mobile devices, and of course VR. Users will be able to participate in the Minecraft Marketplace for the first time ever. This means a whole lot of cash is about to change hands – lots and lots. Parents, hide your coin wallets.
Users will be able to purchase a number of new Skin Packs when this update is released. These will include Team Up! By Razzleberry Fox, Pirates and Fishfolk by Imagiverse, Pastel by Eneija, and Everyday Heroes by Razzleberry Fox. Texture packs get a boost this week with PureBDcraft by BDcraft and Stone Age by Polymaps.
New survival spawns will launch this week – two very awesome sets, in particular. Dustville Survival Spawn by Noxcrew – for the old west! One other in the "forgotten hills" is coming too: Fallen Keep Survival Spawn by Noxcrew. New worlds included in this update include Adventurer's Deam and DestructoBot 5000 by Noxcrew. Blockworks bring Automaton Dreams, while Blockception brings ANNIE: The Rise of Londonium. There'll also be a new set from Imagiverse called Relics of the Privateers, and a new QwertyuiopThePie creation called Space Battle Simulator.
New features in the Minecraft 1.1 Discovery Update include Adventuring in Woodland Mansions, Exploration (with Shulker Boxes, Llamas, Dyeable Beds, and the ability to Smelt ingots to reclaim materials from tools made in the past) and new Glazed Terracotta and Concrete. Enchanting equipment with Frostwalking or Mending will be available in this update, too.
The full Minecraft 1.1 Discovery Update changelog:
• Minecraft Marketplace
• Skyrim Mash-up Pack
• Llamas
• Shulker Boxes
• Woodland Mansions
• Cartographer Villager & Exploration Maps
• Illagers (Evokers & Vindicators)
• Vex
• Concrete & concrete powder
• Glazed terracotta blocks
• Dyeable beds (and you can jump on them, too!)
• Iron and Gold tools can now be smelted into Iron Nuggets and Gold Nuggets
• Adventure Mode
• New game rules: DoFireTick, DoMobSpawning, DoTileDrops, MobGriefing, DoEntityDrops, KeepInventory, DoMobLoot, DoDaylightCycle
• New achievements
• Mending & Frostwalking enchantments
• Totem of Undying
• Off-hand slot (only works for arrows & Totem of Undying)
Users can access the new update by heading to the Windows 10 marketplace or to the mobile marketplace that makes the most sense for them. Head over to Google Play for Android devices. Head over to the iTunes App Store for iPhone and iPad.