'Hoverboard' is a self-balancing one-wheel skateboard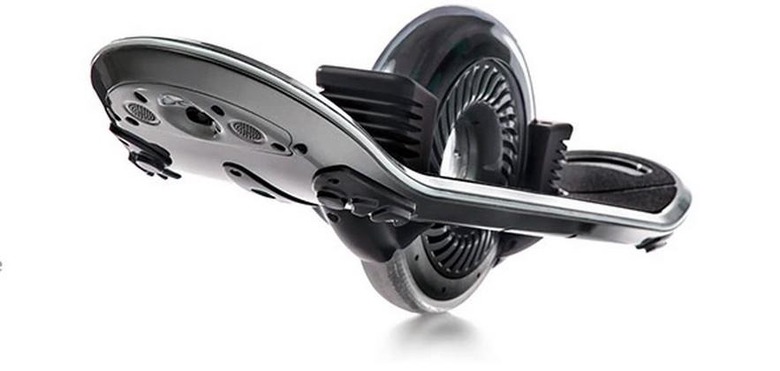 A new skateboard-like vehicle has been introduced, this one simply called "Hoverboard". Before you get too excited, know this — it, like other "hoverboards", doesn't levitate. It does, however, move a bit like we imagine a hoverboard would move, something facilitated via a single wheel placed centrally under the board. The futuristic slant is complemented with a colored light around the edge of the board.
Hoverboard is powered, and it features a self-balancing system to move around and help keep you from eating asphalt. The maker boasts that its device is a "Tesla compressed down to scoot-size." It falls under the category of Personal Electric Vehicle, and if nothing else would be an eye-catching way to travel around campus or the city.
The device has a range up to 12 miles on a charge and a top speed of 16MPH. It charges at a rate of about 1.5 miles per minute, meaning five minutes on a charger might be enough to get you to the bus stop after a long day. The device isn't too light, however, at 25lbs, meaning you'll want to limit how often you have to carry it.
Hoverboard Technologies, the company behind the Hoverboard, is seeking $500,000 USD on Kickstarter, where it has so far raised about $48,000 USD with 29 days remaining. As you might expect, getting one for yourself won't be cheap — backers can get one with a pledge of $3,775 USD. Shipping is estimated to start in July 2016, and will be available anywhere.
SOURCE: Kickstarter