House of Cards season 6 premiere date set for November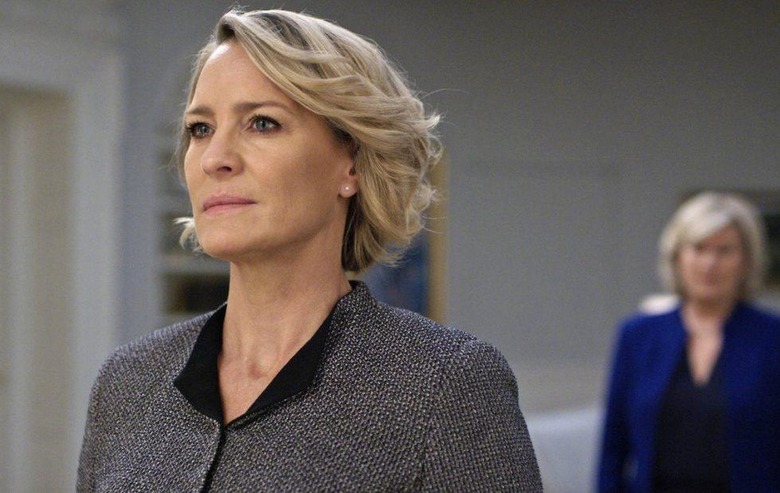 It's been a turbulent ride for House of Cards fans, but it's about to come to an end with the show's 6th and final season. Netflix revealed today that House of Cards season 6 will premiere in November, wrapping up the company's first original series. Given recent events, House of Cards season 6 is shaping up to be quite a bit different from previous seasons, as it'll be missing series lead Kevin Spacey.
The final season of the show will instead focus on Claire Underwood, who stepped into the role of President of the United States at the end of season 5. Netflix fired Kevin Spacey, who plays the role of Frank Underwood, late last year, after sexual harassment allegations surfaced against the actor. For a while, it looked like season 6 wasn't going to happen, but with Netflix cutting ties with Spacey, production on the show's last season continued.
It's unclear how Netflix will write Frank out of the show, and we'll likely have to wait until the season premieres to find out what happened to him. It's also unknown how much the overarching narrative will change without Frank as one of the main characters, as the plot has largely focused on exposing his corruption and all of the awful things he did to ascend to the office of the Presidency.
#HouseOfCards. The Final Season. November 2. 🇺🇸 pic.twitter.com/vCAnpGs5hS

— Queue (@netflixqueue) August 7, 2018
At the very least, seeing how writers explain Frank's absence will make for a good reason to tune into season 6, and it's worth keeping in mind that Frank was only one half of the power couple the show centers on. Claire Underwood is a very compelling character in her own right, so it's possible that House of Cards will still be just as tense and dramatic without Frank Underwood around.
In any case, all will be revealed when the final season of House of Cards premieres on November 2. Will you be watching the final season? Head down to the comments section and let us know!