House of Cards season 3 teaser out, release date set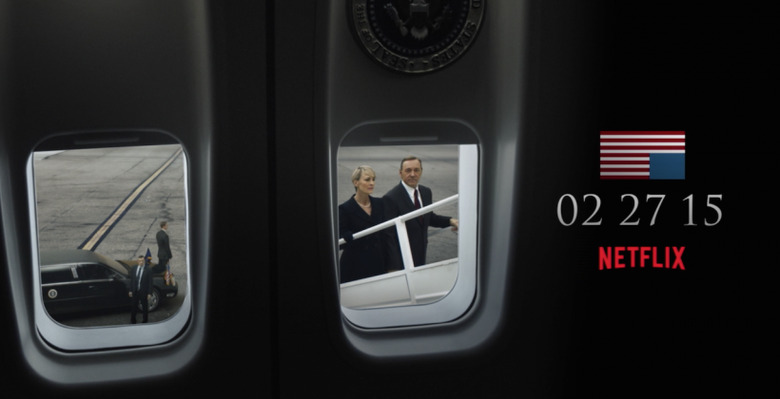 After the holidays, there's typically not a lot going on until the Spring, when going outside for extended periods of time becomes tolerable for most of the country. February is a great time to stay in and stay warm, and there's now good reason to. Netflix has released the first teaser for House of Cards' third season, as well as a February release date. Before you continue, mark February 27 on the Calendar; you'll be staying in that night, and binge watching.
The very short promo gives up no details about what the Underwoods are up to this season. All we get is Frances and Claire ascending the steps into Air Force One, camera inside the cabin. As they ascend, Frank makes eye contact with the camera through a window, and the shot slows down.
He still knows you're here, and is still engaging you. I'm not sure if that's a good thing, or a sign of trouble. If you want to check the video out, it was posted via Facebook and available via the source link below.
When we left Frank and Claire at the end of season two, the Presidency was in-hand after a long, treacherous climb to the top. Now that they're there, we'll have to wait and see if another Frank Underwood is lurking in the House or Senate, biding his time to spring into action to take the Underwoods down.
If you're not all caught up on the goings on in fake Washington D.C., maybe more binge watching is in order. Seasons one and two of House of Cards are available via Netflix, too. A lot of unanswered questions remain, so season three could be really big.
Source: Facebook