House of Cards coming to DVD and Blu-ray June 11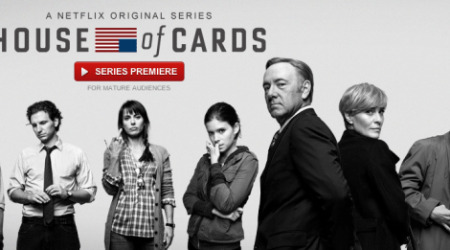 Netflix's latest original series, House of Cards, is coming to DVD and Blu-ray for all of those folks who have been too cheap to get a Netflix subscription, although you'll be paying much more for the discs than you would a Netflix membership, seeing how the Blu-ray version will set you back $52.99, while a month of Netflix — which is more than enough time to watch all of House of Cards — is only $7.99.
The Blu-ray version is available for pre-order on Amazon as we speak, as is the DVD version, which will cost you $44.99. The show was produced by Media Right Capital and licensed by Netflix for online streaming, but it looks like Sony Pictures Home Entertainment has managed to secure the distribution rights for the physical discs of the show.
House of Cards officially released to Netflix on February 1, where all 13 episodes became available at once. Each episode is almost an hour long, so you're looking at well over a full day's work if you're up for the task of watching the entire first season in one day. That shouldn't be too difficult, though, since the show was like a good book: I just couldn't put it down.
Unfortunately, however, the listing on Amazon doesn't list any of the bonus material that will come packing with the disc set (another reason that buying the DVD instead of streaming could be beneficial). Hopefully, though, we'll see the usual stuff, like bloopers, deleted scenes, commentary, etc.
[via High Def Disc News]