Horizon Zero Dawn may come to PC in a huge move for Sony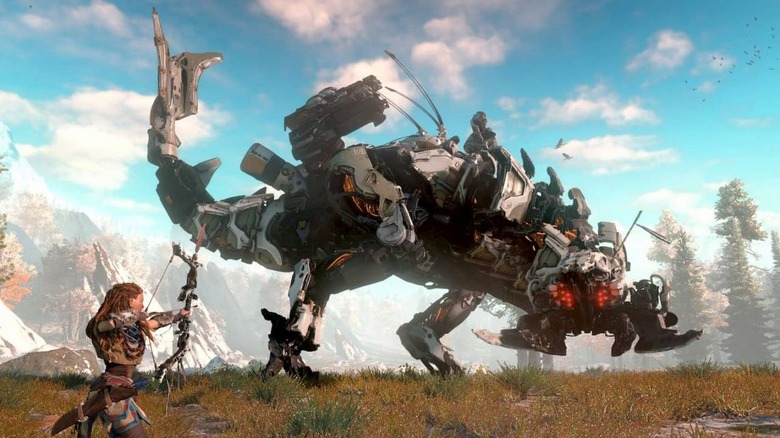 If there's been a theme to this console generation for Sony, it's definitely been "exclusives." The PlayStation 4 has been the best-selling console of the generation for a number of reasons, but a major contributor has certainly been Sony's laser focus on exclusives for the machine. It may not be long, however, until we see Sony put at least one of its exclusives on PC.
A new report from Kotaku's Jason Schreier claims that Sony will put Horizon Zero Dawn on PC this year, marking a big move for the company. Schreier spoke to three unnamed sources familiar with Sony's plan. Those sources say that Guerrilla Games may make the game available on both Steam and the Epic Games Store, but plans for distribution might not be finalized yet and may still change.
Beyond that, Schreier's sources don't offer up much information about this PC port, but they don't really need to because the news that Horizon Zero Dawn could be coming to PC is a big enough bombshell on its own. Throughout the generation, Sony has built up the PS4 as a console to have because of the number of stellar exclusives available for it, so to hear that it's considering bringing one of them to PC is definitely surprising.
While Horizon Zero Dawn wouldn't be the first PS4 exclusive to land on PC, it would be the first one to come from Sony-owned studios. Death Stranding, for instance, is a PS4 exclusive that will head to PC later this year, but since that was made by Kojima Productions (an independent studio), that isn't necessarily unprecedented. Horizon Zero Dawn, however, was made by Guerrilla Games, a studio Sony has owned since 2005.
Assuming Horizon Zero Dawn does come to PC, it may indicate that Sony is taking a page out of Microsoft's playbook. For some time now, Microsoft has been putting all first-party Xbox exclusives on PC as well, a strategy that seems to be working well for it. While we wouldn't expect Sony to bring all of its exclusive franchises to PC, this could be the beginning of a new multi-platform strategy for the company.
As always, take unconfirmed rumors with a grain of salt, but Schreier is a reporter who has been right about these things many times in the past. We'll keep an eye out for official word from Sony, so stay tuned.