Honor Magic launched with 5.09-inch WQHD AMOLED dual curve display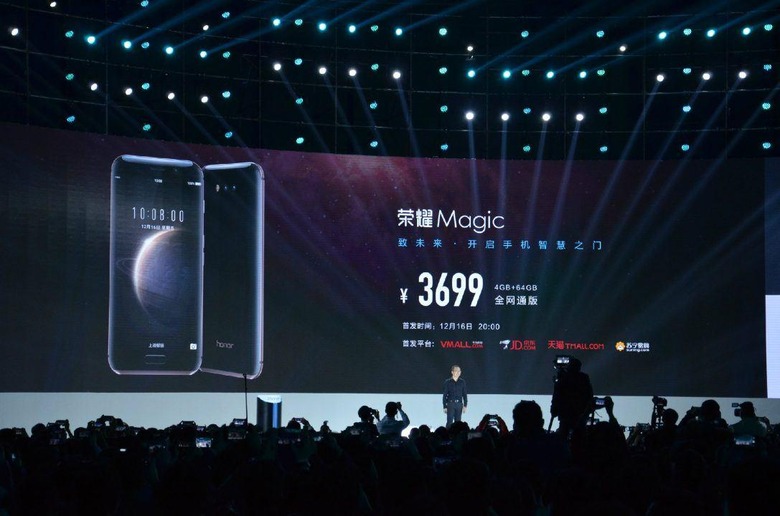 Honor has launched a new smartphone to celebrate its third anniversary and the device is called the Honor Magic. A couple of the big features of the Magic smartphone are the Kirin 950 processor and the 5.09-inch WQHD AMOLED display. That scene has curved glass over the top that wraps around the edges of the device giving it a curved look.
Honor says that the Magic is designed to provide an intuitive mobile experience and it has intelligent sensor and recognition tech. A WideScreen sensor allows the user to unlock the phone by picking it up and looking at the screen. The screen turns off automatically when you put the phone down or put it in a pocket.
FaceCode intelligent recognition ensures that only the registered faces can unlock the phone. The phone also has a Honor Magic Live system that anticipates the user's needs by offering predictive information. That system can give you customized recommendations based on your social conversations via instant messenger. The phone supports Magic power and can charge the battery to 70% in 20 minutes and 40% in ten minutes.
The Honor magic runs Android Marshmallow for the OS, measures 146.1 x 69.9 x 7.8mm and weighs 145g. The Kirin 950 processor is paired with 4GB of RAM and 64GB of internal storage. There is no microSD card slot for storage expansion, which may be a deal breaker for some. The rear camera is a 12MP unit with an 8MP front camera. The Magic has WiFi, Bluetooth 4.2LE, fingerprint reader, and the battery is 2900mAh.
Huawei Honor Magic Specifications
- OS: Android 6.x (Marshmallow)
- Size: 146.1 x 69.9 x 7.8mm
- Weight: 145g
- Display: 5.09" 2560 x 1440 AMOLED dual curve 577ppi
- Processor: Kirin 950
- RAM: 4GB
- Internal Storage: 64GB
- NO microSD card slot
- Camera (rear): Dual 12MP (F2.2)
- Camera (front): 8MP (F2.4)
- Connectivity: WiFi 802.11 b/g/n/ac (2.4/5GHz), Bluetooth v4.2 LE
- Battery: 2900 mAh
- Others: Fingerprint, headphone jack, Fast Charge