Honor Magic 2 Review: enchanting but mildly disappointing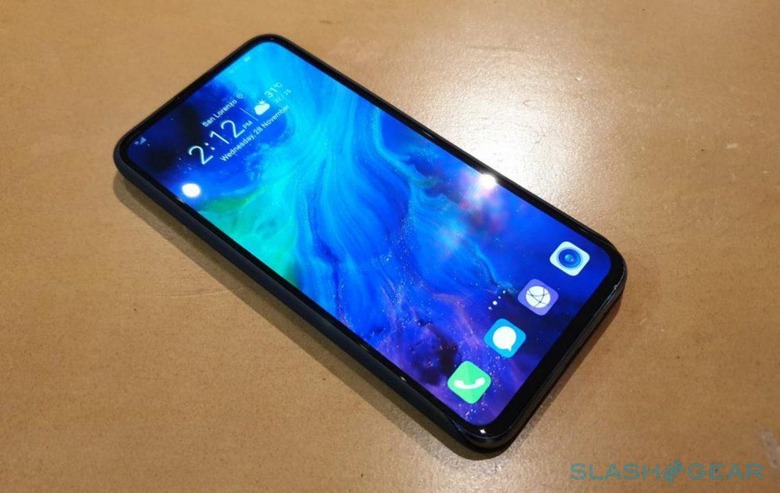 The quest for "edge to edge" bezel-less screens have forced smartphone makers to search for solutions to a problem of their own making. Unless you completely ignore it the way Samsung does (at least for now), there is no escaping the notch, a.k.a. the cutout, in its various shapes and sizes. Some, like Vivo and OPPO, have briefly toyed with and quickly abandoned the idea motorized elevating front cameras. Others, like Meizu and ZTE's nubia, ditched the front camera entirely but put a second screen on the back instead. Another path, which may still gain some traction, is the one taken by Honor in the Honor Magic 2. But no matter how the Huawei sub-brand spins the narrative towards AI and cameras, there will be little doubt in people's minds: the slider takes center stage.
Specs, Performance, and Battery
But let's be fair. Even without that "special feature", the Honor Magic 2 is already magical in its hardware. The Honor Play earlier this year was positioned as the company's monster flagship but the Magic 2 trumps it in every way possible, except in the battery). While they do share the same 2340x1080 screen resolution, the Honor Magic 2's larger 6.39-inch panel devotes the entire surface to it, no notches to mar your view. More on that later.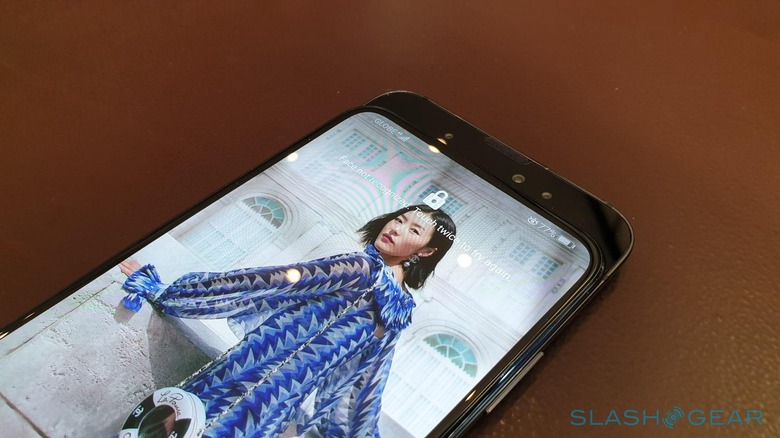 In raw specs, the Honor Magic 2 rivals the Huawei Mate 20 and even the Huawei Mate 20 Pro. All three are powered by Huawei's boasted Kirin 980, one of the first 7 nm mobile processor and the first to sport dual Neural Processing Units (NPUs). The Mali-G76 GPU goes hand in hand with Huawei's GPU Turbo mode. The Magic 2 comes in 6 or 8 GB RAM and 128 or 256 GB storage configurations.
All of these work together to create a smooth and almost flawless performance. Although it may not beat the Apple A12 in benchmark scores, they aren't bad at all. Even better, the actual day to day performance, for both regular use and gaming, is more than adequate. It could perhaps be smoother than butter but Honor Magic 2.0, the rebranded Huawei EMUI 9.0, takes many liberties as far as eye candy goes. More on that a bit later.
AnTuTu
Geekbench
3DMark
The one area where the Magic 2 seemingly falls short is in battery life, it's 3,500 mAh falling behind the Huawei Mate 20's 4,000 mAh or even the Honor Play's 3,750 mAh. In practice, however, the Magic 2 is able to hold itself well, even better than some terribly more expensive flagships. At maximum, mixed use of Wi-Fi and 4G LTE, browsing, gaming, and lots of thumb typing can take the smartphone beyond 24 hours, even up to a day and a half. At worst, it will still get you through a workday before you have to rely on Honor's new 40W Supercharge to take it from zero to 50% in just fifteen minutes.
Design and Display
With the hard facts out of the way, we can dig into the things that make the Honor Magic 2 a truly mesmerizing phone. There is no mistaking that the Honor Magic 2 is a premium phone, from the moment you pick it up all the way to booting up and seeing its truly all-screen face. An impressive accomplishment for a company whose brand was, until recently, thought of as "cheap Huawei's' only. There is definitely some heft to the phone, a trait that's often attributed to premium phones. That is both a boon and a bane as it both gives the impression of a solidly built device but also makes it more precarious to operate with one hand.
The glass back doesn't really help alleviate worries of slipping but it is definitely a sight to behold, at least until fingerprint smudges cover it up. The curved edge glass back employs the same gradient color scheme that seems to be en vogue among Chinese companies these days though its effects are subtler. The black "mystical magic", for example, really only reveals its nature under bright, white light. In almost all other lighting conditions, it might as well be glossy black. A curious side note, Honor ships a hard plastic case with the Magic 2 that, unfortunately, hides those gradients underneath a matte black coating.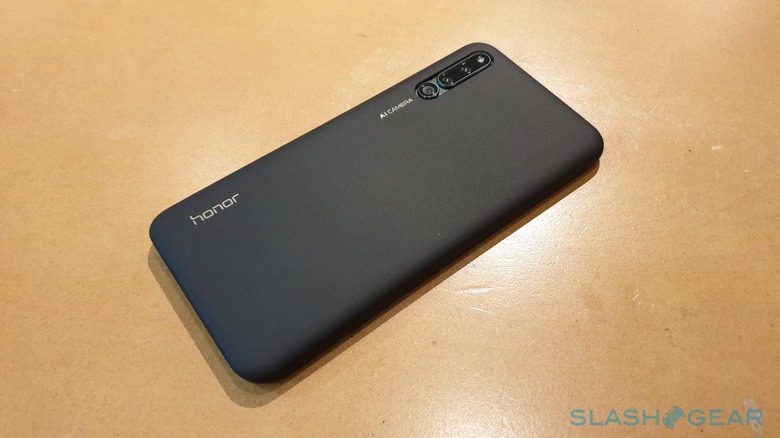 Every design decision made for the Honor Magic 2 has really been in the name of providing a truly all-screen experience without compromising the overall experience. At least not too much. It definitely shows because the Magic 2 has the most gorgeous screen you'll lay your eyes upon, unbroken by any notch and barely surrounded by any border. Well, almost. When you have a screen like this, even a little border is going to stand out even more. Fortunately, they're not too attention-grabbing, even the chin that only slightly thicker than the other sides.
The display itself is bright and vibrant, especially at max settings. Being AMOLED, contrast is excellent and blacks really pop. That said, you might not actually want to use dark colors and themes that much, even if those would be more energy efficient. The Magic 2's screen magic is really more noticeable with more colorful backgrounds and themes since darker colors could easily be mistaken for phone bezels.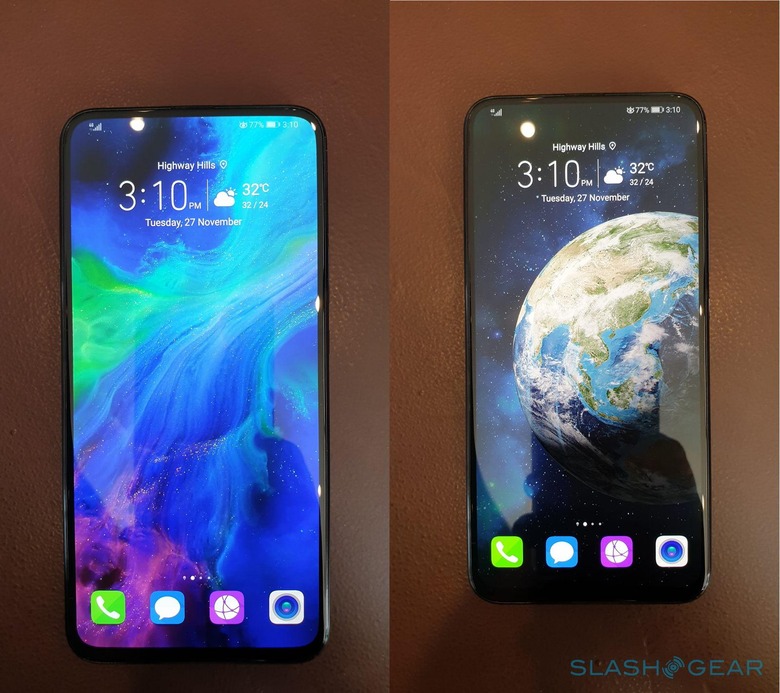 The Honor Magic 2 does fail to check a few boxes on the list when it comes to design and features. There's no wireless charging, for one, though that may be a bit more forgivable than the lack of a headphone jack. Honor does ship with a USB C to 3.5 mm jack adapter in the box, though it doesn't include earphones, naturally. Perhaps adding insult to injury, the Magic 2 has no water or dust resistance to speak of, which is unsurprising considering its second key feature.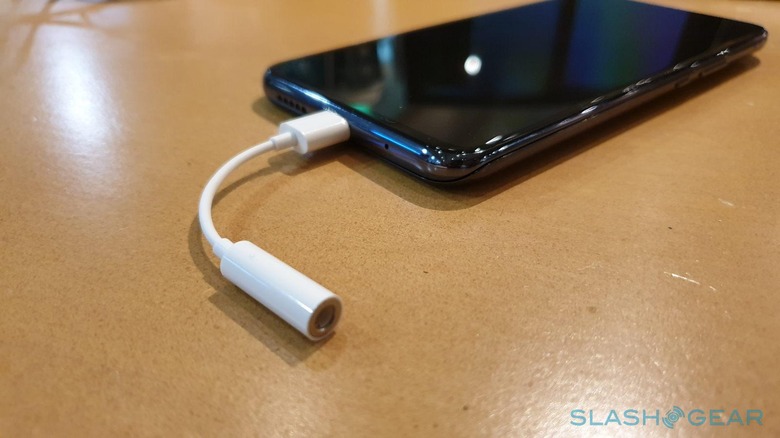 The Slider
The Honor Magic 2's sliding mechanism and bezel-less display are two sides of the same coin. Both are the most eye-catching features of the smartphone and each exists because of the other. The slider is Honor's answer to the question of how to best hide and reveal front-facing sensors on an all-screen phone. Admittedly, it does a better job compared to motorized implementations as there is virtually no delay in sliding the back (or the screen) up or down.
It's also arguably more robust, as there are no motors that could eventually wear down and render the mechanism useless. Honor boasts of a "sophisticated butterfly track sliding mechanism" that uses four tracks, two on each side, and an additional supporting track to keep the sliding movement smooth, stable, and, hopefully, longer lasting. On the flip side, it also runs the risk of actually wearing down faster. Because while watching elevating cameras becomes tiring after a short while, a slider can easily become an oft-used fidget toy.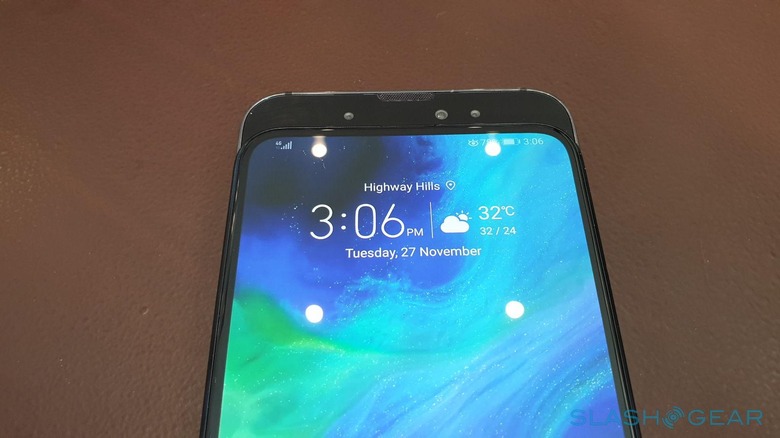 However, sliding the screen down isn't exactly easy, as it requires your thumb to press harder on the glass to get a better grip. Otherwise, you will frustrate yourself having your thumb, not the screen, slide on the smooth glass. It's also problematic when the screen is already turned on, as the gesture can sometimes trigger a scroll or a tap when you never intended it to.
The Magic 2 isn't immune from the same dangers that the Vivo NEX S and OPPO Find X face in terms of dust and dirt. Depending on your environment, it is almost too easy to accumulate such particles between the sliding parts, which will ultimately make their way somewhere you can't easily clean. Only time and longer use will tell if that will pose a risk to the smartphone itself.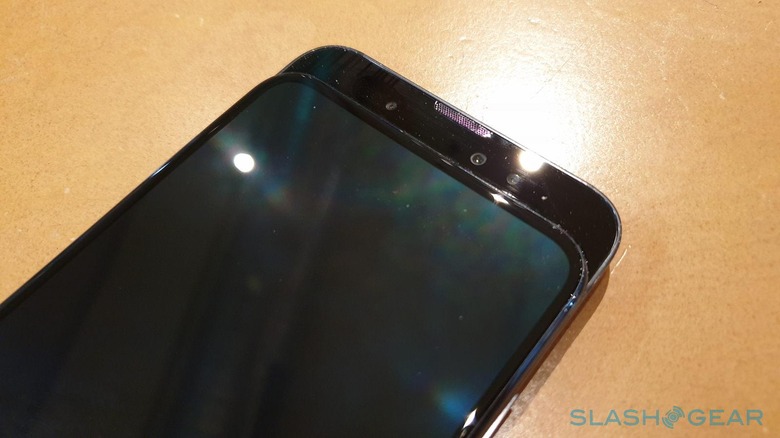 Cameras
The Honor Magic 2 boasts of having six cameras. A few months ago, that statement would have had a bigger impact. These days, however, it has become a race to have the most number of cameras in total. "In total" is the key phrase here, because Honor has, thankfully, not gone overboard. There are only three cameras on the back and three cameras in front, and not all of them are even directly usable when taking a regular photo or a selfie.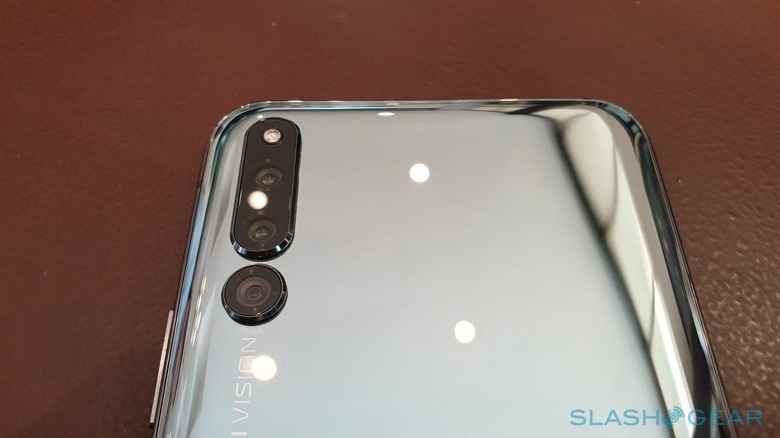 For example, the sensor with the highest megapixel count on the back is meant to assist that main camera. That's the 24 megapixel monochrome CMOS that works in tandem with the 16 megapixel f/1.8 camera. The third wheel, so to speak, is yet another 16 megapixel CMOS sensor, but one with an f/2.2 117-degree ultra-wide angle lens.
Spec-speak aside, the Magic 2's cameras are pretty impressive left on automatic settings. They produce bright images with rich details, though Auto HDR does tend to overdo things a bit. Autofocus is also a bit pretty aggressive and jumpy, which is most evident when trying to take a bokeh shot ("Aperture mode" in the camera app), where the subject suddenly becomes blurry for sometimes no reason at all.
A huge part of the Magic 2's camera magic is, of course, the AI assistance. This mostly means scene recognition and automatic adjustment of settings to fit the case. Most of the time it does work, especially when recognizing food or landscapes or overcast skies. It can even recognize rooms, which seems to be its fallback scene when trying to take selfies inside a room.
The front cameras on the Magic 2 aren't an afterthought but that boasted three sensors is a bit of a marketing sleight of hand as well. There is really only one main camera, a 16 megapixel one. The other two are both 2 megapixel infrared cameras that exist for selfies, 3D emojis, and, more importantly, face recognition. The front camera also benefits from AI assistance, both in scene recognition and the notorious "beauty mode". The latter is, thankfully, less aggressive than the Honor 8X's version, producing enhanced selfies that are actually closer to reality.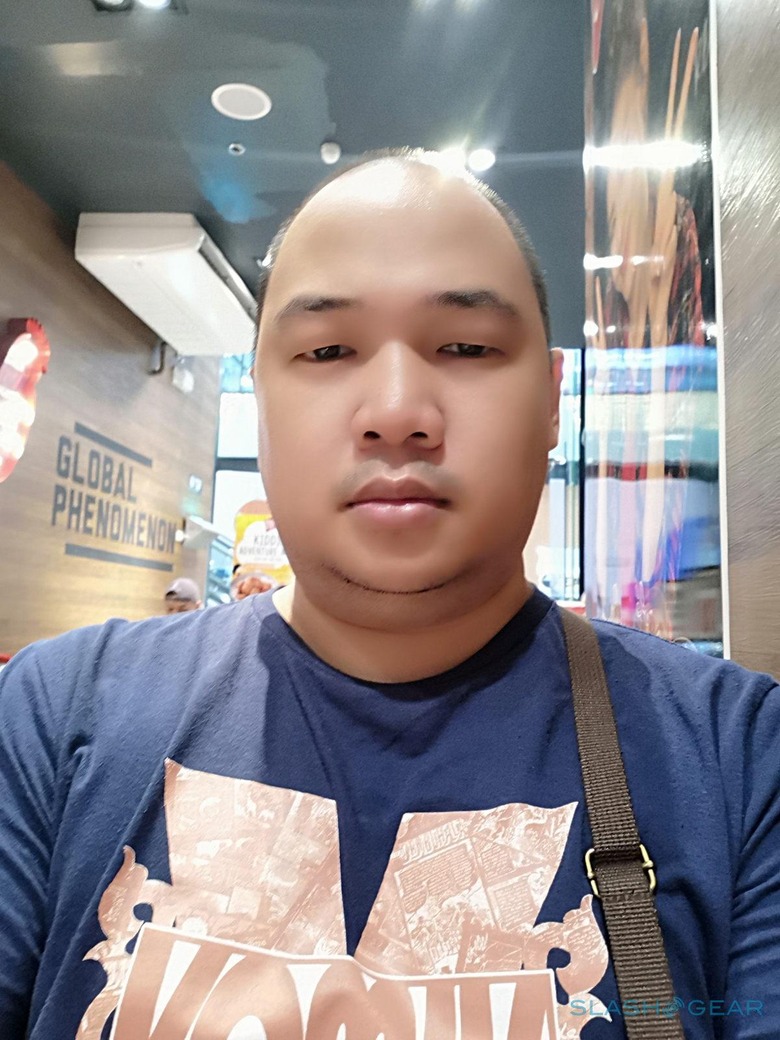 Biometrics
Biometrics is the one feature that sets the Honor Magic 2 apart from its nearest rivals, including the Xiaomi Mi Mix 3 that implemented a similar slider form factor. The Vivo NEX S has an in-screen fingerprint scanner but no face recognition while the OPPO Find X has 3D face recognition but no fingerprint scanner. The Xiaomi Mi Mix 3, on the other hand, does have a traditional rear-mounted fingerprint scanner and face recognition but doesn't take the extra step to use structured light technology ala Apple's Face ID. Honor, of course, claims to have it all.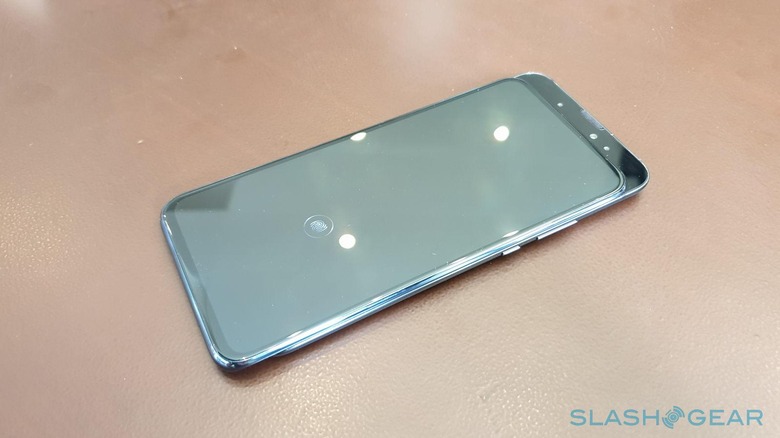 But while it does have a larger Fingerprint on Display (FoD) and two infrared sensors to help in mapping out faces, it can actually a frustrating experience in practice. Grimy fingers and odd angles can throw off the fingerprint scanner while darker lighting seems to render face recognition a bit blind. Fortunately, the screen helps shine a light on your face in the latter case and neither biometric authentication failed completely at the same time. In other words, you at least have options.
They're not that fast either, which is pretty much a given for the FoD. The combination of having to slide down the screen first plus the slight delay in face recognition also makes that option less than instant. On the upside, it's definitely convenient having the fingerprint scanner on the front again so you won't have to pick up the phone or stare at it just to see what's on the screen or even use it while it lies flat on your desk.
Software
I'm not going to mince words here. Huawei's EMUI, now Honor's Magic 2.0, is a bloated mess. Out of the box, the Honor Magic 2 had 36 icons on its screen, three of which are folders that add 30 more. Those who chide Samsung for its heavy customization and bloatware should take a peek at what's happening on this side of the world. To be fair, Huawei's and Honor's users probably love it. It's definitely a user experience designed for a different market.
However, the system itself is overloaded with functions and features, perhaps more than you can comfortably digest in a single sitting. The Magic 2 is one of the very first new smartphones to launch with Android 9.0 Pie out of the box but you wouldn't be able to tell unless you dig deep into the Settings app.
Despite having so many options, the Magic 2 ironically barely has anything for the slider action. You can only set it to do nothing or to launch Honor's new YOYO smart assistant. You can't even launch the camera app directly to jump into selfie mode just by sliding the screen down. It's like Honor's version of the infamous Bixby button. Unfortunately, YOYO can only understand and speak Chinese at the moment, so there was no opportunity to test how smart it really is.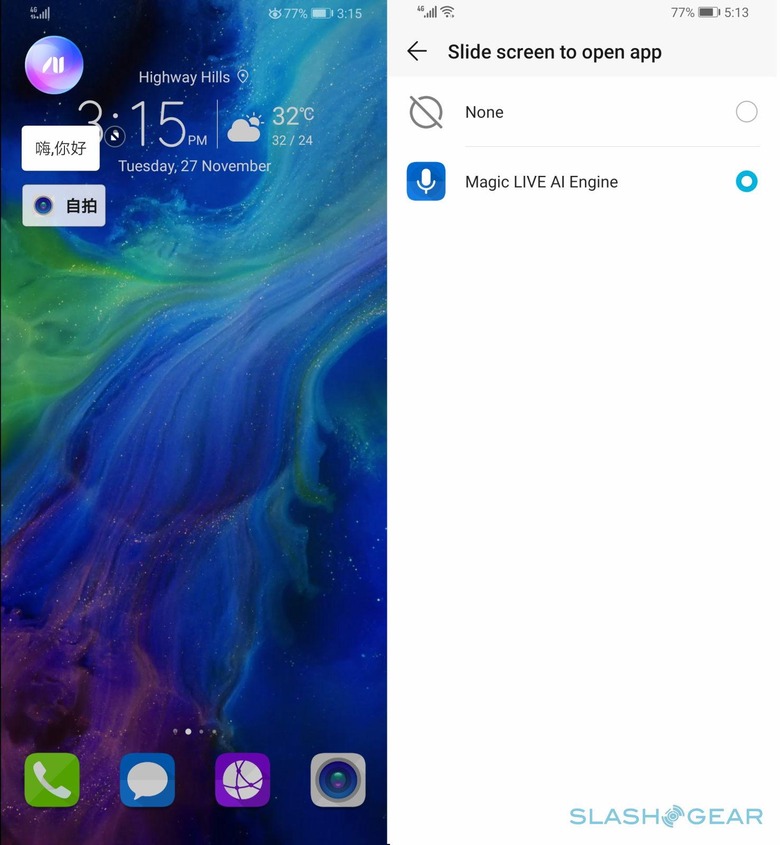 Wrap-up
The Honor Magic 2 definitely has the "Wow!" factor of the Vivo NEX S and the beauty of the OPPO Find X. But it also does a lot better than either of those, providing competitive performance, a more robust mechanism, and an overload of choices. It definitely has the makings of being one of the best Android phones of the year.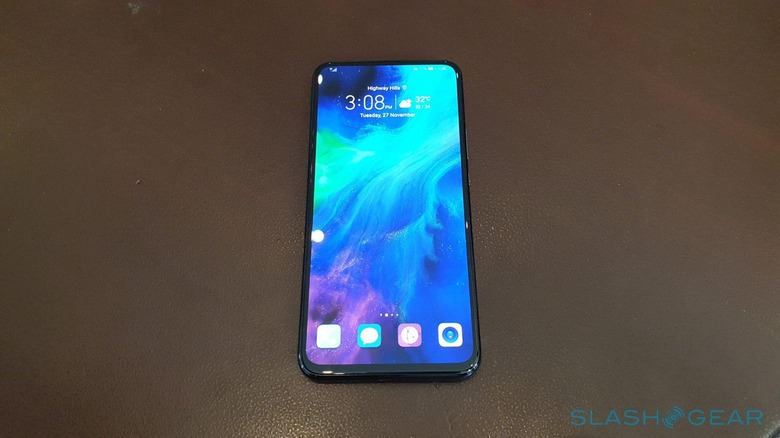 A few ingredients, however, ruin the pot. Small nitpicks that stand out like warts on an otherwise smooth face. From the not unexpected lack of water resistance to the lack of a headphone jack to the lack of an option to use the sliding action for anything else, the Honor Magic 2 is really just a few steps away from being a fantasy made real.