Honor has announced that it has a new team up with Marvel Studios that will focus on the flick Doctor Strange that will hit theaters on October 25. The new partnership will see limited edition Honor 8 handsets that are etched with Doctor Strange's "Eye of Agamotto" available. It's unclear if these limited edition devices will be available to purchase or if they will only be available as prizes via the Marvel UK Facebook page.
The Honor 8 smartphone is a 3 exclusive in the UK and Europe and has been available on that network since the device launched back in August. Honor says that the sapphire blue version of the device is close to selling out on 3.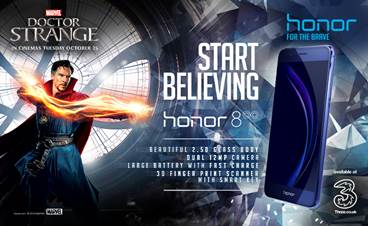 To mark the launch of the film and the tie up, Honor buyers can get two adult movie tickets to see Doctor Strange in the theater and four Marvel movie downloads from Honor and 3. To get the tickets and the movies, customers have to purchase an Honor 8 smartphone from October 3 to November 2016 on the 3 network.
The limited edition smartphone has the same hardware inside as normal Honor 8 smartphones. That means a Kirin 950 chipset featuring an eight core processor with four 2.3GHz high performance cores and four 1.8GHz power saving cores. That chipset is matched up with 4GB of RAM and 32GB of internal storage. Power is from a 3,000mAh internal battery and the smartphone has a 5.2-inch full HD display. Cameras include a 12MPx2 dual main camera and an 8MP front camera.
Three is selling the Honor 8 smartphone for £339.99 and the device is available on the network now. The Honor 8 launched in the US last month, but there is no word on the limited-edition devices coming to the US.