Honda's Mean Mower V2 aims for 150 mph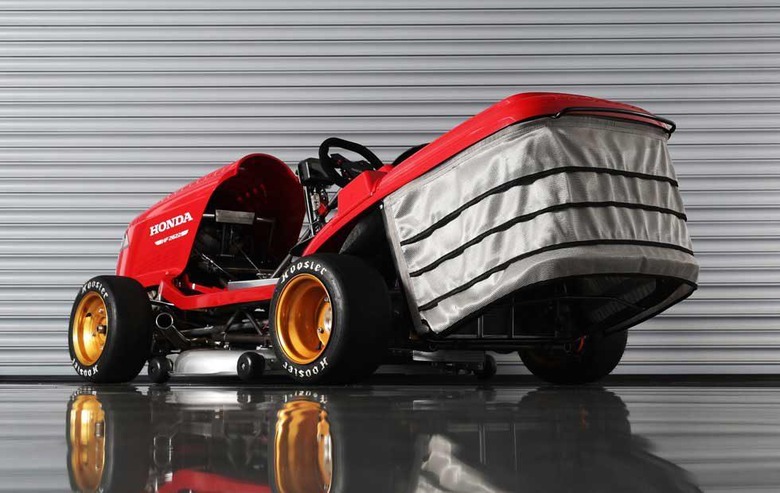 Honda has unveiled its latest version of the insane contraption called the Mean Mower. Mean Mower V2 is aiming for a top speed of 150mph and was built by Team Dynamics, Honda's British Touring car Championship partner. This second iteration is a faster and meaner version of the original from 2014.
While being insanely fast, the Mean Mower looks like a Honda HF 2622 lawn tractor. It can cut grass still using a pair of carbon fiber blades and a pair of electric motors to spin them. A chain runs to the rear wheels and the power is from a Honda Fireblade motorcycle engine.
That engine is a monster 999cc four-cylinder unit making 190bhp and 13,000 rpm. All that power is crammed inside a mower that weighs in at only 69.1kg. That means a predicted power to weight ratio of 1000bhp/ton.
Fireblade parts are used in other areas of the Mean Mower including the clutch, ECU, six-speed drivetrain, and the full-color LCD display. The gears are shifted via carbon fiber paddles on the steering wheel. Engineers are estimating 90mph in first gear.
Brakes are important in a lawn mower that can hit 150mph and in this case braking uses four-piston calipers front and six in the rear. ATV wheels and racing tires handle the grip. Mean Mower will be driven by Jess Hawkins an experienced kart and car racer and stunt woman.
SOURCE: Honda