Honda's exoskeleton is one (assisted) step closer to launch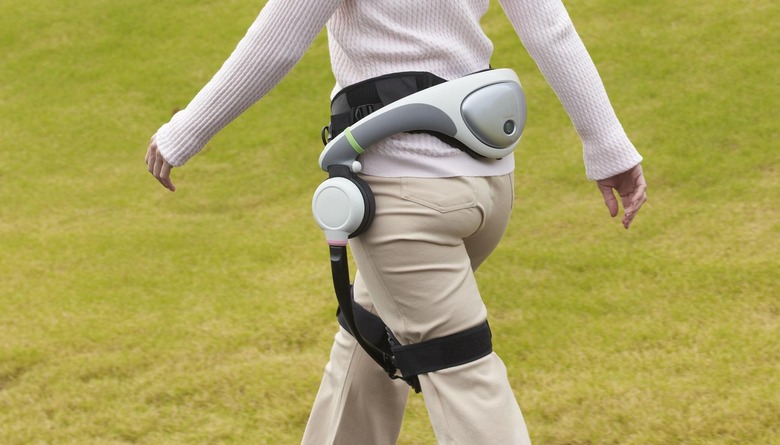 Honda's Walking Assist Device, a partial exoskeleton to help those with difficulties moving unsupported, has been given the green-light for release by US regulators. The wearable robotic gadget was given Premarket Notification by the US FDA, after clinical trials helped demonstrate it can significantly help in rehabilitation.
It has not been a quick route to this point, mind. Honda began researching the Walking Assist Device all the way back in 1999, exploring bipedal robotic movements and their potential for human support. That research helped develop ASIMO, Honda's humanoid robot, but continued in parallel with the exoskeleton too.
Rather than restore walking abilities to people who have completely lost the use of their legs, the Walking Assist Device instead aims to help those with gait deficits. Most commonly associated with the aftermath of a stroke, such conditions can make movement more tiring and slower.
Honda's wearable straps onto the waist and around the legs. Sensors in the right and left sides track the position of the user's hip joints, while motors in the leg sections help promote symmetrical walking patterns, as well as generally guiding movement. At the same time, progress of metrics like left-right symmetry, movable hip angle range, walking speed, and other gait parameters are logged and can be analyzed.
In the process, studies have shown, it also promotes neuromuscular recovery. Honda put the Walking Assist Device into a 2014 clinical trial in Chicago, where its efficacy in helping with post-stroke gait rehabilitation was made clear.
"The group using the Honda device not only made gains in step length, gait speed and symmetry, but also was able to do more in therapy," Dr. Arun Jayaraman, PT, PhD, research scientist at the Shirley Ryan AbilityLab where the clinical trial took place, said of the wearable. "This was an added benefit, providing opportunity for greater improvement."
What we haven't seen, though, is a commercial launch. While Honda has begun leasing the device in Japan through rehabilitation clinics – where it's said to be in use by around 250 facilities – it has not yet done so outside of the country. This FDA approval, though, would pave the way for just that.
If that all sounds too good to be true, here comes Honda itself to pour some cold water on the news. "Honda has yet to announce any business plans for the Walking Assist Device," it's at pains to point out, which means that despite the FDA premarket notification, there's still no word on when – if ever – you might actually be able to strap on the exoskeleton yourself.