Honda Sensing Advanced Driver-Assistive system to debut on Honda Legend in Japan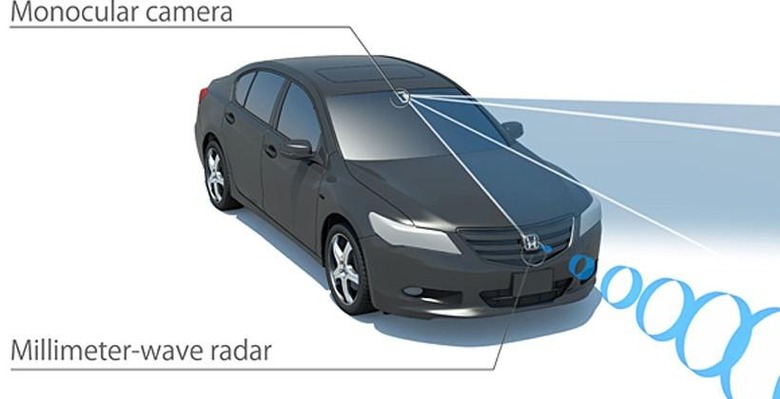 Honda is talking up a new driver assistive system that will be rolled out first in Japan on the all-new Legend. The driver assistive system is called Honda Sensing and it will launch in Japan before the end of the year on the new Legend before being rolled out to other vehicles in the future. Honda Sensing is a step towards a collision free society according to Honda.
The system has two types of sensors with different characteristics. One of the sensors is a millimeter-wave radar inside the front grille of the car. The other sensor is a monocular camera mounted on the upper inside of the windshield.
The radar sensor is able to detect pedestrians, which are historically hard to detect due to their low rate of radio wave deflection. The radar can also detect the position and speed of the target object. The monocular camera is able to detect objects that come within a range of 60m ahead of the vehicle. Along with the sensors are six new functions including a Pedestrian Collision Mitigation System, which Honda says is a world's first.
As a driver nears a pedestrian, the system will start to apply gentle pressure to the brakes to provide a warning. If the driver fails to brake, the system brakes hard and provides audio and visual warnings. The system can also provide steering input to steer the car away from pedestrians. The system has Road Departure Mitigation that helps the driver stay in the lane and it can provide steering input to bring the vehicle back into its own lane. Honda says the system can also recognize street signs and display the information on a heads-up display system inside the car.
SOURCE: Honda