Honda previews EV lineup for Tokyo Motor Show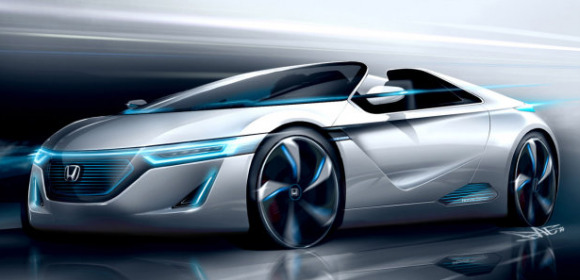 Honda will be occupying the largest booth at next month's Tokyo Motor Show and it's got plenty of production and concept vehicles to fill up all that space. The company released a preview of its entire lineup today, which includes several automobiles and motorocycles as well as home power generation technology. Two electric vehicle concepts called the AC-X and the Small Sports EV stood out with very Tron-esque renderings.
The AC-X is the more practical of the two and is a plug-in hybrid designed for both short and long commutes. It can be driven purely on a charge of its onboard battery or can switch to engine mode, allowing it to take on much longer trips than can be achieved on an electric-only vehicle. The Small Sports EV concept, on the other hands, is aimed at "fun" driving and looks to be a two-seater with a convertible top.
Both models have only been revealed in renderings with Honda likely saving the big unveil for the show in Tokyo next month. Honda will also be showcasing a new N Concept series that emphasizes the creation of ample space and will be debuting the first production model from that line called N BOX. Planned production models of various motorcycles such as the NC700S, INTEGRA, and NC700X will also be on hand.
[via AutoBlog]