Honda delivers its first Fit EV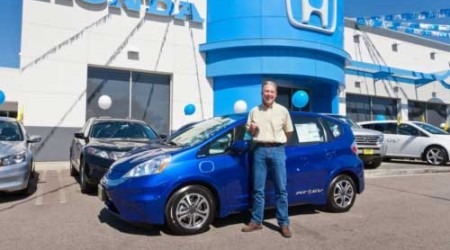 Honda has announced that it has delivered its first 2013 Fit EV to a customer. The Fit EV is available in a limited area to begin with including some select California and Oregon markets. The vehicle was given a 118 MPGe rating by the EPA and consumes 29 kWh of electricity per 100 miles driven. The Fit EV is one of the most efficient EVs in the country.
The vehicle is expected to be available in more markets later this year. As with most electric vehicles, the big issue with the Fit EV for most consumers is the cost of the vehicle. The Fit EV is nearly twice as expensive as the gasoline-powered version. The first Fit EV was delivered to husband-and-wife duo of Matt and Becky Walton from Ventura County, California.
The two people were the first to register to lease a Fit EV at the Honda websiteFitEV.Honda.com when registration opened last year. The new owners plan to use the vehicle for commuting. The pair says the fact that the car or you charge its battery pack fully in under three hours is one main reason for the purchase. Like many EV owners, the couple has a standard vehicle for longer-range driving. The Fit EV is only available as a lease at $389 per month for three-year term.