Honda Civic Tourer sets World Record for fuel efficiency at 100.31 mpg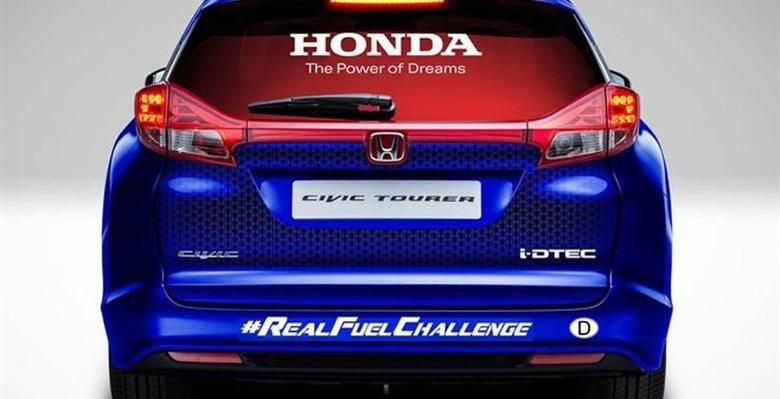 Honda has landed itself a Guinness World Record for fuel efficiency using a Honda Civic Tourer 1.6 i-DTEC car to drive across Europe. To set the record the car drove across all 24 contiguous EU countries and racked up an average fuel economy of 100.31 miles per gallon over a trip that spanned 8,347 miles. The trip took the car and drivers 25 days to complete.
The drivers of the car that grabbed the record were Fergal McGrath and Julian Warren from Honda's European R&D team. During the entire trip, the duo had to stop for fuel nine times with the car racking up 932 miles on each tank of fuel.
Fuel costs for the entire trip were £459. The trip began in Aalst, Belgium on Monday June 1 and headed in a clockwise direction around Europe. The quoted fuel efficiency of the Tourer is 74.3 mpg and the team was able to exceed that figure by 25%. The rules of the record setting contest stipulated that the same two drivers had to be in the car for the entire trip.
To prove that the car performed the trip, the duo had to keep records using GPS data and, fuel/mileage logbooks, video, photographs, and independent witness signatures to prove that the rules were followed. The GPS portion of the data was gathered using a telematics and stolen vehicle recovery system called TRACKER. No modifications were made to the car used in the trip from stock.
SOURCE: Honda