HoloLens Dev Edition ships today with a tiny Buzz Aldrin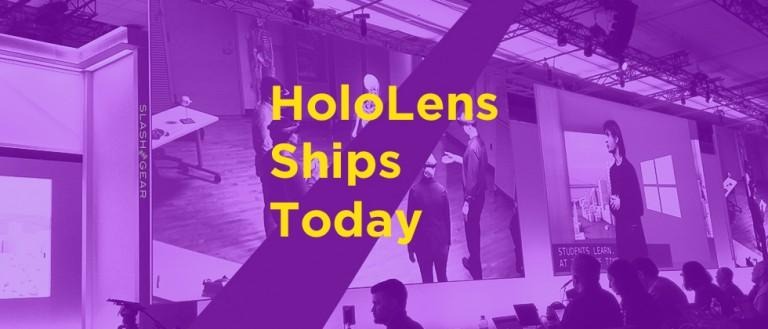 This week the folks at Microsoft have announced the release of the first edition of HoloLens. This version of the headset will be sent to developers only – it'll be a HoloLens Developer Edition as such. The shipping on this developer edition will begin today, and Microsoft suggests that developers will begin to be able to develop apps immediately. They've also given a single example of development time for a standard HoloLens app – six weeks. They first app they've developed will have its code posted to GitHub soon.
Kudo Tsunoda, Microsoft CVP working with Microsoft Edge, HoloLens, and 1st Party Windows Experiences, stood on stage this morning with the first box – the first developer edition of the Microsoft HoloLens holographic headset. This developer kit will be shipping to developers and enterprise partners starting today.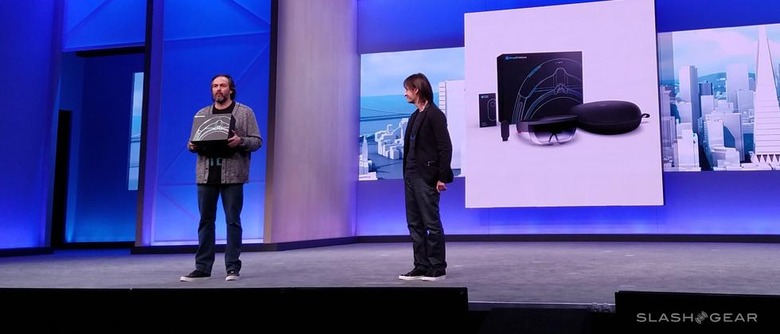 "Today is the day where we leap about dreaming about mixed worlds, to have HoloLens become a reality exclusively on Windows 10," said Microsoft's Alex Kitman.
Microsoft will be releasing a Galaxy Explorer app for HoloLens this afternoon. They've also suggested that Japan Airlines will be amongst the first to create a HoloLens app – and that a litany of other brands are creating apps as well.
Representatives of Case Western Reserve University stepped on stage after the wall of brands was revealed. These folks showed off how they're using the app to enhance their clinic.
Seeing inside the body of a human – that's what's happening here. At Case Western Reserve University, they're launching a Holographic Academy Program where they'll use HoloLens to explore the body.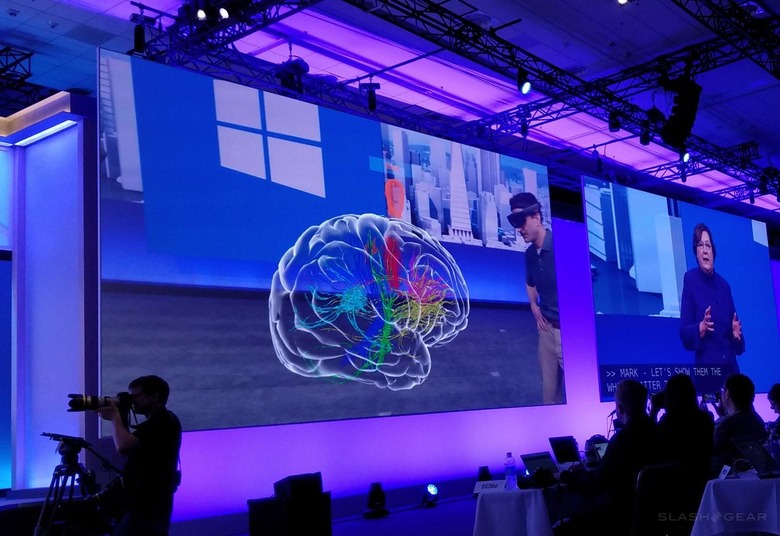 Students will also be able to look at a representation of an MRI scan from a real patient, circling the brain scan in 3D as the instructor speaks.
NASA, if you'll remember, has had HoloLens on the International Space Station for some months. They've created apps – and continue to develop apps – to support astronauts aboard.
Now they're creating an app called "Destination: Mars" with Buzz Aldrin.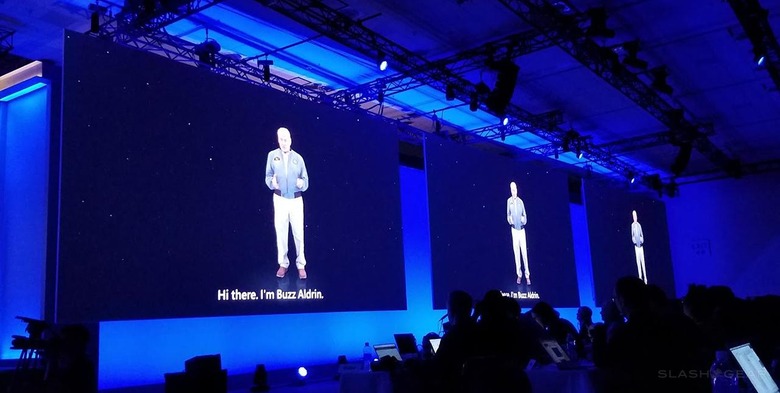 A hologram of Buzz Aldrin will assist in teaching the HoloLens wearer about Mars and what NASA is doing to get there. Users will soon be able to try this holographic experience at the Kennedy Space Center visitor complex.
Below you'll see Tiny Buzz Aldrin in action – at about 1 minute in to the demonstration video.
Be sure to check out our feature You're going to Mars, I went to NASA to see more about the Kennedy Space Center visitor complex and how you – yes you – will be going to Mars. For reals.
Below you'll see Microsoft's newest presentation of HoloLens – focusing on the partners that'll make it real!