HMDX Jam Plus and Burst hands-on
Here at CES, we stumbled upon a smaller company that's notorious for all sorts of wireless and wired portable speakers that come in different shapes and sizes, as well as a bevy of bright colors. HDMX had some of their new products for 2013 out on display, and we ended up getting some hands-on time with their Jam Plus wireless Bluetooth speaker and the Burst wired portable speaker.
The Jam Plus is what you see above. It's a wireless Bluetooth portable speaker and it works with devices from up to 30 feet away. It also uses the company's Jam2 technology so that you can pair up a second Jam Plus speaker for true stereo sound — perfect for putting a speaker on either side of your bed for the ultimate stereo alarm clock.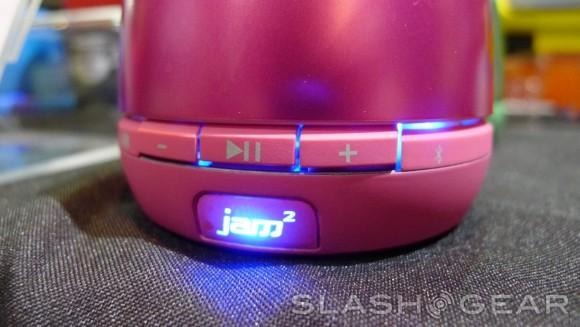 HMDX claims that the battery lasts 4 hours of wireless audio playing, but if you feel like saving a bit on battery and don't mind being tethered, the Jam Plus provides a line-in port to connect your device directly to the speaker. The Jam Plus will be available sometime this spring at a price of $59.99.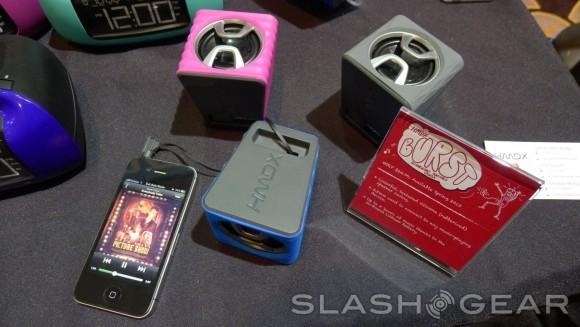 The Burst is another one of the company's newest products (pictured above), and it's even smaller than the Jam Plus. It doesn't have any wireless options, but it does have a retractable 3.5mm headphone jack so that you can plug directly into the speaker. What's most impressive is its size — it's extremely tiny, but it packs a huge punch. Testing it out on the show floor proved to be successful. Even with the noise level of all the people around us, the Burst speaker gets loud, and all this will provide around 8 hours of listening time. The Burst will be priced at just $24.99 and will be available this spring.