Hitachi UT Series LCD TVs - Thin and light, but full of features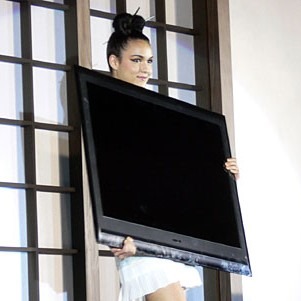 You don't believe its thin and light? Well peep this, its 35mm thick, that's a number, then for the lightness, look at the runway model carrying one and stopping to pose after strutting out with the screen in hand.
I am pretty sure a good sign of something being light is how easily a runway model can carry eat and still look good. Part of the reason its so light is because they've separated the actual screen, and all the other junk that usually comes built into back/side of the TVs.
The separated media station has a TV tuner, a bunch of connectors, and a rather unique S-iVDR slot that basically allows the base station to act as a DVR storing the media on your choice of SD or MMC cards. You can connect the Media station via HDMI or through and optional wireless transmitter. You can get the TV's in 37 or 42 inch sizes, both offering FullHD, the 37-inch model should be available by the end of the year and the 42-inch model some time after the start of next year. No word on price though, but I wouldn't expect them to be cheap, oh, and they only appear to be available in select Asian markets anyways.
Hitachi unveils super-slim LCD TVs in Singapore [via Crave]