Hitachi unveils Ultrastar 15K600 and C15K147 HDDs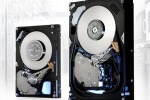 Hitachi has revealed a pair of new and very fast hard drives for the enterprise user. The new drives include the Ultrastar 15K600 and the Ultrastar C15K147. Both of the new hard drives spin at 15,000 RPM and have a MTBF rating of 1.6 million hours.
The 15K600 is the highest capacity drive for performance enterprise use. It has a 3.5-inch form factor with 33% more storage space compared to the drive it replaces. The 15K600 comes in 6Gb/s SAS or 4Gb/s FCAL interfaces. Hitachi uses a 64MB cache on the drive for better performance and the drive comes in 300GB, 450GB, and 600GB capacities.
The Ultrastar C15K147 is a new 2.5-inch 15,000 RPM HDD designed to allow integrators and OEMs to cram more drives inside of servicers they offer. Hitachi uses advanced power management techniques with the drive to save 50% more power compared to similar 3.5-inch drives. The C15K147 is available in 73GB and 147GB capacities and has a 64MB cache.