Hitachi Travelstar 5K500 - A Whopping 500GB Notebook Drive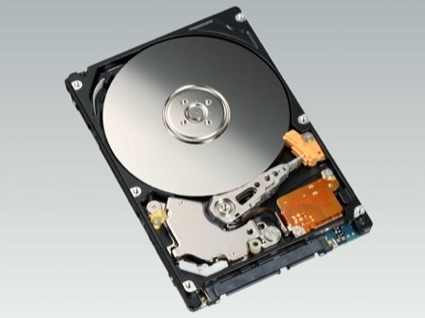 I'm a backup junkie, and I use a lot of harddrive space on my laptop to keep manual backups of our sites despite having an automated backup servers (I never trust automated backup). My MacBook Pro is my primary and only machine that I use daily in and out.
Having 500GB storage on my laptop with a single drive configuration is plain sweet! Hitachi made it possible with its new 5K500 2.5-inch laptop drives. The Travelstar 5K500 is available in 400GB and 500GB capacity.
It features "Bulk Data Encryption" for data security. Power consumption on the 5K500 is almost the same as the previous 5K250. It will only be available as SATA drive (3.0Gb/s) and runs at 5400RPM. Hitachi will be exhibiting the 5K500 drives at CES 2008 and it will ship in February.
Specifications

400/500 GB *

12.5 mm in height

5400 RPM

260 billion bits per square inch maximum areal density

3 glass disk platter (s)

6 TMR recording head(s)

1000 G/1ms non-operating shock

400 G/2ms operating shock

5.5 ms average latency

12 ms average read time

0.95 W active idle

0.7 W low-power idle

1.8 W idle power (EA version only)

Serial ATA 3.0Gb/s, 1.5Gb/s encrypted

148 grams in weight

2.2 Bels typical idle acoustics

2.4 Bels typical operational acoustics