Hitachi releases 1.5-inch Plasma HDTVs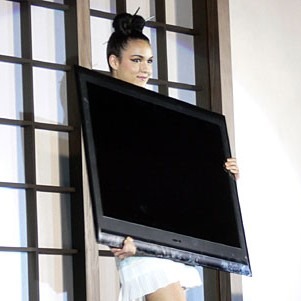 Hitachi's super-slim "1.5" range of plasma HDTVs are finally going on sale in the US this month, with the 1.5-inch (35mm) thick panels boasting not only their low-profile depth but improved picture clarity at any angle.  Available in four sizes – 32, 37, 42 and 47-inches – the sets will be sold as part of Hitachi's "V Series" and "Director's Series" ranges.  Prices will begin at $1,800.
Part of the slimming process included offsetting the TV tuner, connections and other electronics to a separate "media station".  This also includes an S-iVDR slot that allows the base station to act as a DVR, storing media on SD or MMC cards.  Connection between this and the panel is either by an HDMI cable or via a wireless accessory, presumably similar to that which Sharp announced on Wednesday.
The 37-inch "Director's Series" model, the UT37X902, and the smaller 32" UT32X802 are both available now, priced at around $3,000 and $2,000 respectively.  The "V Series" models will carry tags ranging from $1,800 for the 32-inch to $4,500 for the 47-inch, while the other "Director's Series" panels will range from around $2,300 to $4,700.  Hitachi is aiming to release the smaller panels by the end of June, with the 47-inch versions coming in September.
[via TG Daily]