Hitachi GST 4TB Deskstar 5K4000 Hard Drive and Touro Desk External Drive revealed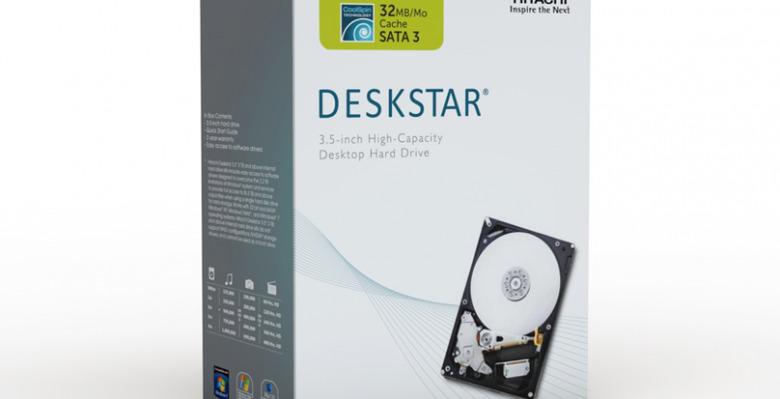 The fine folks at Hitachi have revealed a couple of new models in their hard drive line this week, one of which is the 4TB Deskstar 5K4000 Hard Drive retail kit with CoolSpin Technology, the other being the Touro Desk external drive, both of these units available in the first quarter of 2012 at the earliest. In that your hard drive still remains the place where your do everything from watch movies to edit movies to save your everloving homework assignments, the cloud hasn't quite completely taken over the industry for the bulk of us regular citizens. Hitachi Global Storage Technologies brings to you today two drives at right around $400 USD and a massive 4TB of space for fun.
Hitachi 4TB Deskstar 5K4000 Hard Drive Retail Kit with CoolSpin Technology
This first of two drives is a 3.5-inch hard drive housing a 32MB cache buffer and 33 percent more capacity than Hitachi's last drive solution. Inside you'll also find CoolSpin technology which allows your hard drive to run both cooler and with much less power. Hitachi notes that with CoolSpin and other power management techniques, this drive has up to 28 percent idle power savings over the Deskstar 7K3000 7,200 RPM drives in addition to an idle acoustic level or only a tiny 2.5 bels.
This drive comes complete with instructions, mounting screws, and software downloads that make sure your 32- and 64-bit Microsoft Windows, Apple OS X, and Linux® systems are able to tap into the full capacity and power of the drive as "one big massive data drive" without having to install additional hardware. The Deskstar 5K4000 (bare drives and bulk pack) will be shipping to manufacturers, distributors, and channel partners around the world in the first quarter of 2012 — meanwhile the 4TB Hitachi Deskstar 5K4000 Hard Drive Retail Kit is currently shipping in limited quantities to online and retail stores with a suggested retail price of $399.99.
4TB Hitachi Touro Desk External Drive
Built to fit alongside the rest of the storage equipment you've got without a hitch, you've got a simple smooth black body on this drive with textured finish. Inside you've of course got the massive 4TB of space but you ALSO get a free 3GB of cloud storage from HitachiBackup.com with every purchase. You can access this cloud-stored data at any time from your computer or mobile device web browser. An upgraded account will yield 250GB of storage as well as iPhone and iPad companion apps.
You'll be using the ultra-fast USB 3.0 interface on this monster, and the drive is compatible with both Mac and PC computers. You can get the Touro Desk External Drive in 4, 4, 2, and 1TB capacities. The 4GB version will be available in January for $419.99 MSRP. Think about getting one now!