Hitachi DZ-BD10H 1080p camcorder with Blu-ray, HDD and SDHC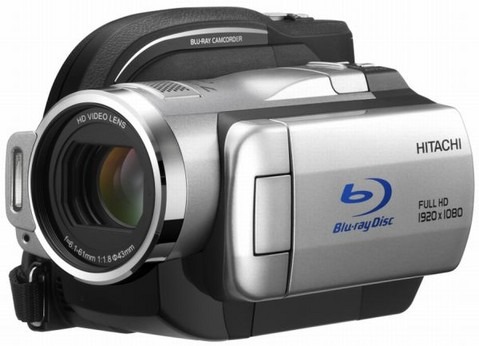 Hitachi have announced a new high-definition camcorder, the DZ-BD10H, that combines a recordable Blu-ray drive with a 30GB hard-drive and SDHC slot.  With a 7-megapixel, 1/2.7-inch CMOS, full 1080p footage can be recorded, edited on-device and the burnt to Blu-ray disc; there's also a 10x optical zoom and image stablization.
Up to 4 hours and 20 minutes of full HD video can be saved on the HDD, while a 32GB SDHC memory card (not included) will hold around 4 hours and 45 minutes. A single 8cm Blu-ray disc stores around one hour of video.
The DZ-BD10H includes face recognition, which can adjust the brightness and focus to ensure that even if a subject is strongly backlit, their face will not be in darkness. A 2.7-inch LCD is used for previewing and reviewing footage, and there's an HDMI socket for outputting to a TV or computer.Five different quality modes are available, ranging from full 15Mbps 1080p down to 6Mpbs.
Hitachi will launch the DZ-BD10H on August 9th, priced at €945 ($1,474).
[via Akihabara]