Hitachi 3LCD SVGA+ projector CP-SC635 offers 4000 ANSI lumen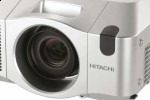 The Hitachi Business groups has let loose of an industry-grade projector with ANSI lumen rating of 4000. The 3LCD CP-SC635 sports a 4:3, natively SVGA+ (1400x1050) resolution screen panel with durable inorganic, and is able to resolve resolutions of up to 1600x1200. Also, Its HDMI connectivity allows HD video formats feed of up to 1080p at 60hz.
The CP-SC635 also provides vertical and manual lens shift allowing flexible projector placement, 4 optional lenses for various throw distances, extended 2,000-hour hybrid filter for least frequent system maintenance, and a suite of networking technologies, security features and asset management systems, make it the best candidate for most demanding industrial projector. According to Hitachi, it's designed to use in simulator apps where detail and brightness are needed.
Pricing and product availability were not mentioned in the press release, but a quick search on internet revealed street price of $4199.
CHULA VISTA, Calif., January 28, 2009 — Bringing SXGA+ resolution and advanced functionality to applications where high brightness and detail are important, Hitachi Home Electronics (America), Inc., Business Group today announced the introduction of the CP-SX635 3LCD projector. The CP-SX635 is designed for environments such as simulator projects, offering a brightness of 4,000 ANSI lumens and four optional lenses for various throw distances.

The CP-SX635 offers a 2,000-hour hybrid filter, making maintenance and cleaning much less frequent. The lens shift option makes the CP-SX635 very easy to install. Additionally, 16 watts of audio provide ample sound for most applications, while the audio pass-through function allows users to put the projector in standby mode when only audio is needed.

Additionally, the CP-SX635 model can also be remotely controlled and maintained through a LAN network connection, providing the ability to network, control and maintain the projectors remotely. The network functionality also makes it easy to control multiple projectors in different rooms and to monitor for functions such as remaining lamp life.

The CP-SX635 projector also offers functions proprietary to Hitachi such as My Screen, My Memory and My Button as well as input source naming and blackboard/whiteboard/daytime modes. Security features include a PIN lock, Kensington slot and transition detector. Lastly, the CP-SX635 offers full connectivity including a HDMI input.

"The introduction of the CP-SX635 3LCD projector demonstrates Hitachi's continued commitment to reliability, versatility and unmatched performance," said John Glad, product manager, Hitachi Home Electronics (America), Inc., Business Group.