Hisense 4K Smart Laser TV is really a projector with speakers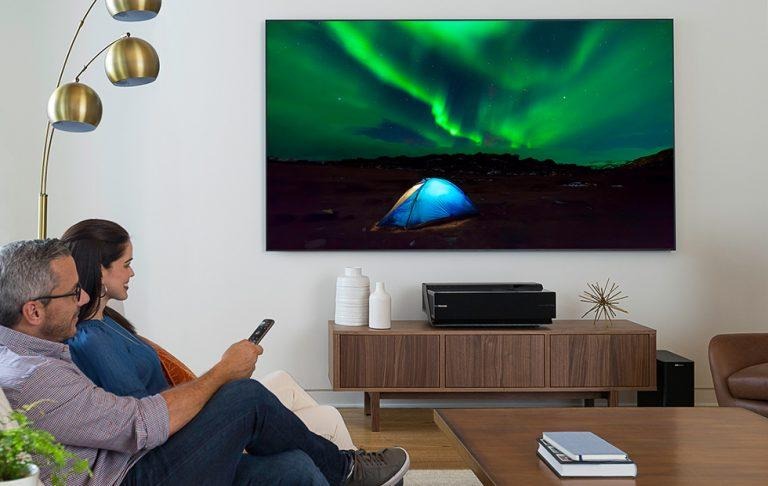 Hisense group veep Dr. Lin says that it's time to rethink the TV when the company announced its 100-inch 4K Ultra HD Smart Laser TV. And apparently, that means turning the TV into a not-TV. This latest model the manufacturer, based both in China and the US, boasts of many things that it can do better than LED and LCD TVs. And perhaps that's not a surprise when you find out that this TV is actually really a very bright projector instead.
The 100-inch Hisense 4K Smart Laser TV is really a short throw projector that comes with built-in speakers. Actually four built-in speakers, 2 on each side, and a wireless subwoofer, all bearing Harman Kardon's name.
Hisense claims it can render image faster than LED TVs, partly thanks to its "Smooth Motion Plus" technology, partly thanks to the TI DLP 4K UHD DMD chip, and partly because it doesn't have to actually render those on an LED or LCD screen, cutting the time and processing down. It has better viewing angles than LCD screens because it projects the images onto a 100-inch Anti-Glare Screen instead of displaying it on an LCD panel.
Being a projector, you might worry about its visibility in bright light. You shouldn't, assures Hisense, because the projector is capable of 3,000 lumens of brightness. Being a smart TV, it has access to apps like Netflix, Amazon Video, Pandora, YouTube, and the like. Not all of those, however, have 4K UHD content to take advantage of the Laser TV's capabilities. Naturally, it has a UHD upscaler to make Full HD and 2K content look fine on a 4K "screen".
If you're sold on that Hisense promise of a different kind of TV, you might want to set rethink your finances. The Hisense 100-inch 4K Ultra HD Smart Laser TV is now available for purchase nationwide, for an ultra large price of $9,999.