High-Speed 500MB/sec CompactFlash next-gen standard proposed by Sony, Nikon & SanDisk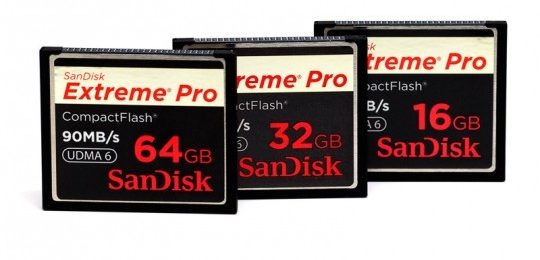 Sony, Nikon and SanDisk are pushing for a new high-speed memory card format, which would replace CompactFlash in future digital cameras and camcorders. The unnamed new format would mark a switch from PATA to PC Express, and theoretical transfer speeds of up to 500MB/sec from the current 167MB/sec maximum. Meanwhile it would also allow for cards greater than 2TB in capacity.
Higher speed means faster continuous burst shooting and speedier transfers back to your computer afterward, but there are also power consumption benefits which should increase battery life. Although it would be similar in size to a CompactFlash card, even accommodating ruggedness measures, it would not be backward-compatible with the existing standard.
Still, it's in SanDisk, Nikon and Sony's best interest to sell you new hardware, and you've got some time to save up; the CompactFlash Association is putting together a working group to look at the proposal, and then come up with some sort of roadmap for the new high-speed memory card's development. It's not clear how long that will all take.
Press Release:
SanDisk, Nikon and Sony Propose Industry Standards for Next-Generation High-Speed Memory Card Format

Companies Jointly Develop New Specifications to Meet Needs of Professional Photography and Video Markets

MILPITAS, Calif.–(BUSINESS WIRE)–SanDisk Corporation (NASDAQ:SNDK), Nikon Corporation and Sony Corporation today announced the joint development of a set of specifications that addresses the future requirements of professional photography and video markets. The three companies proposed the specifications to the CompactFlash® Association (CFA)1, the international standards organization, with the intent to standardize the format.

"The ultra high-speed media, which will be realized by this new card format, will expand the capability of digital SLR cameras and other professional digital imaging equipment"

Professional photography and High Definition (HD)2 video applications require a new generation of memory cards capable of processing significantly larger files. To address the imaging industry's future speed and capacity demands, SanDisk, Nikon and Sony proposed a new card specification whose performance and storage capabilities surpass those of existing memory cards. Once accepted, the new format will enable exciting new possibilities in the professional imaging and video markets.

The proposed specifications achieve data transfer rates of up to 500 megabytes per second (MB/sec)3 (theoretical maximum interface speed) using the highly versatile PCI Express4 interface. The increased speeds will enable imaging and video applications that could not be accomplished using the current CompactFlash specification's Parallel ATA (PATA)5 interface. CF6.0, released in November 2010, offers maximum performance of up to 167MB/sec.

The new specifications' faster speeds enable continuous burst shooting of massive RAW images. The enhanced performance also allows users to quickly transfer storage-intensive high-resolution photos and videos from the card to a computer. The specifications combine high-speed data transfer with low power consumption via a power scaling system to extend battery life.

In addition to industry-leading performance capabilities, the new memory card specifications also meet the future capacity and durability requirements of professional imaging applications. The proposed new format has the potential to extend theoretical maximum capacities beyond two terabytes (TB)6, making it especially useful for high resolution images and HD video applications. Similar in size to a CompactFlash® card, the new format's access control function and highly durable form factor produce a combination of physical ruggedness and reliability that is indispensable for professional usage models.

"This ultra high-speed media format will enable further evolution of hardware and imaging applications, and widen the memory card options available to CompactFlash users such as professional photographers," said Mr. Shigeto Kanda, Canon, and chairman of the board, CFA. "This next generation format is expected to be widely adapted to various products, including those other than high-end DSLRs."

"The ultra high-speed media, which will be realized by this new card format, will expand the capability of digital SLR cameras and other professional digital imaging equipment," said Mr. Kazuyuki Kazami, operating officer, vice president and general manager, development headquarters, imaging company, Nikon Corporation.

About SanDisk

SanDisk Corporation is the global leader in flash memory cards – from research, manufacturing and product design to consumer branding and retail distribution. SanDisk's product portfolio includes flash memory cards for mobile phones, digital cameras and camcorders; digital audio/video players; USB flash drives for consumers and the enterprise; embedded memory for mobile devices; and solid state drives for computers. SanDisk is a Silicon Valley-based S&P 500 company, with more than half its sales outside the United States.

About Nikon

Nikon has been a pioneer in optical technology to develop worldwide since its inception in 1917. Today, Nikon offers a wide range of products utilizing advanced technologies, from consumer optics such as digital cameras and other camera-related products, binoculars and ophthalmic lenses, to industrial precision equipment including IC and LCD steppers and scanners, microscopes and measuring instruments.

About Sony

Sony Corporation is a leading manufacturer of audio, video, game, communications, key device and information technology products for the consumer and professional markets. With its music, pictures, computer entertainment and on-line businesses, Sony is uniquely positioned to be the leading electronics and entertainment company in the world. Sony recorded consolidated annual sales of approximately $78 billion for the fiscal year ended March 31, 2010. Sony Global Web Site: http://www.sony.net/

1CompactFlash Association (CFA) is an international standards organization developing specifications for CompactFlash products.

2Full HD (1920X1080X30fps, HD & 3D video support may vary based upon host device, file size, resolution, compression, bit rate, content and other factors. See www.sandisk.com/HD

3Based on SanDisk internal testing; performance may be lower depending upon host device. 1 megabyte (MB) = 1 million bytes.

4PCI Express is a serial interface, a computer expansion card standard.

5ATA(Advanced Technology Attachment) or PATA (Parallel ATA) is an interface standard between PC and storage devices.

6 1 terabyte (TB) = 1 trillion bytes.