Hey Cortana, tell me about Nissan's CES 2017 keynote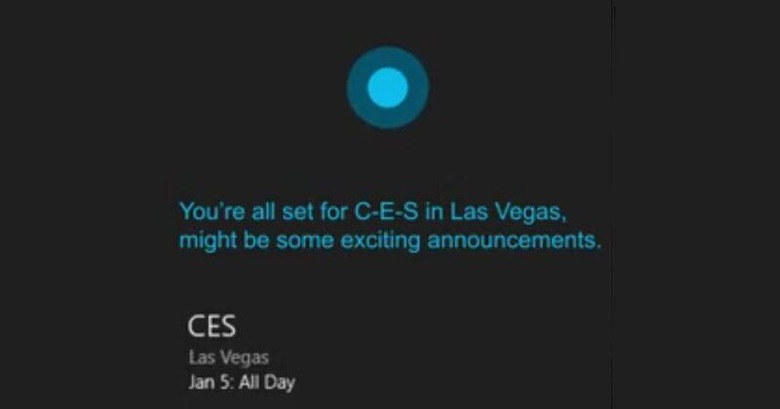 Cars are getting smarter, either with the help of tether or paired smartphone or by themselves. Some car makers have flocked to Apple's CarPlay while others have jumped on Google's Android Auto. The one major platform maker that seems to be missing out, however, is Microsoft. If Nissan's teaser is any indication, however, that might be changing on Thursday. To remind people about its CES 2017 keynote, Nissan has sought the marketing help of Cortana, and Microsoft, of course, hinting that there might be a big reveal coming up.
Microsoft has indeed partnered with car makers in the past. It has inked a deal with Volvo to Skype for Business inside and with Harman to bring Office productivity to the wheel. Those, however, have merely been bits and pieces and would pale in comparison if Microsoft and Nissan indeed brings Cortana and a version of Windows 10 to the dashboard.
That said, the pieces are already in place anyway. It has recently teased a partnership with Harman Kardon for what is presumed to be a Cortana-powered smart speaker. The audio experts, however, are also popular among car makers, which opens up the another possibility. Cortana is also revealed to be coming to Windows 10 IoT Core, which means it could be squeezed into just about any computer system, including car infotainment systems.
Of course at this point, it's mere conjecture. The only thing that's sure is that Nissan and Microsoft has formed some form of bond. Whether or not Cortana has a role to play remains to be seen when Nissan holds the mic on 5th January in Las Vegas.
Three days until #Nissan's keynote at #CES2017! (Just ask #Cortana to remind you...) Catch it on @Twitter or @YouTube: https://t.co/yre8W4jf8F pic.twitter.com/ZMfs4xCem9

— Nissan Motor (@NissanMotor) January 2, 2017