Herman-Miller Embody chair: $1,600 Aeron successor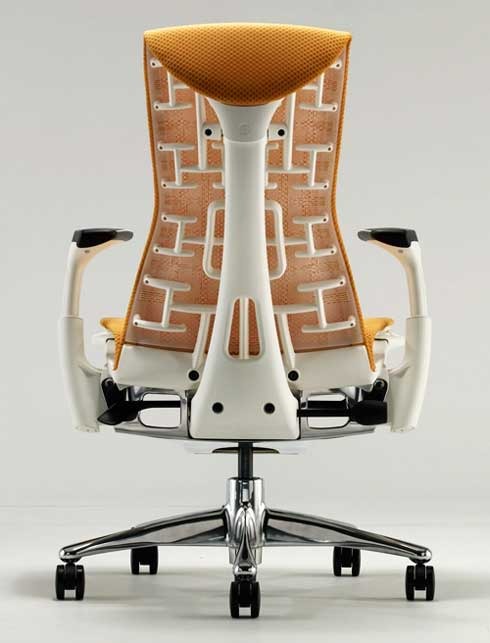 With economies around the globe sliding sourly down the pan, it seems an unusual time to announce a $1,600 chair.  Still, if people are going to be sitting glumly, contemplating their sinking shares, they may as well have something ergonomically sound to do it on: enter Herman-Miller and their latest uber-chair, the Embody.  Follow-up to the iconic Aeron, the Embody takes that fourteen year old design and adds even more flexibility and support.
The result of six years of design tweaking and reportedly millions in development costs, the Embody obviously drank down a lot of the $1.5bn profit from the Aeron.  Improvements include a new system of elastic bands that offer universal suspension, a second layer of plastic coils for additional support, and a third layer of plastic hexagons that can move independently.   A mesh-fabric cover allows for air circulation, keeping the sitter cool, while seven controls adjust things like lumbar support and seat depth.
If you're wondering about all that plastic, the chair as a whole is apparently made from 96-percent recycled materials.  It's also constructed from, or with, nothing that could pose a health or environmental risk; the same is true during customer use and final disposal. 
The Herman-Miller Embody will be available to order in 2009, with a choice of 13 fabrics and three finishes.  It'll be priced at $1,595.
[via The Tech Report]