Siri is gaining a new talent, with deeper integration between iOS and Google Voice allowing calls and text messages to be sent via Apple's assistant. The new feature was quietly added to the latest update of Google Voice, and after a little setup is almost as easy to use as placing a call or sending a message via Siri through Apple's own dialer or iMessage.
Indeed, all you need to add is the explicit instruction to use Google Voice for the call or message. By default, if you ask Siri to place a call to someone, the assistant will use Apple's own dialer. If, however, you say "Hey Siri, call Mom with Google Voice" or "Hey Siri, send a message to Paul with Google Voice," iOS can now route them accordingly.
The new functionality was spotted first by Venturebeat, with Google seeming integrating Apple's CallKit in the latest update to the Voice app. That's a free download in the App Store, and Google Voice accounts themselves are also free.
How to set up Google Voice with Siri
If you've got a single Google Voice account, it's a fairly straightforward process to get the service working with Siri. First, go to Settings on your iPhone or iPad. Then choose Siri & Search from the list of options.
You'll need to have "Listen for 'Hey Siri'" switched on, if you want voice control. Otherwise, you'll need to hold down the power button on iPhone X or newer phones in order to trigger the assistant.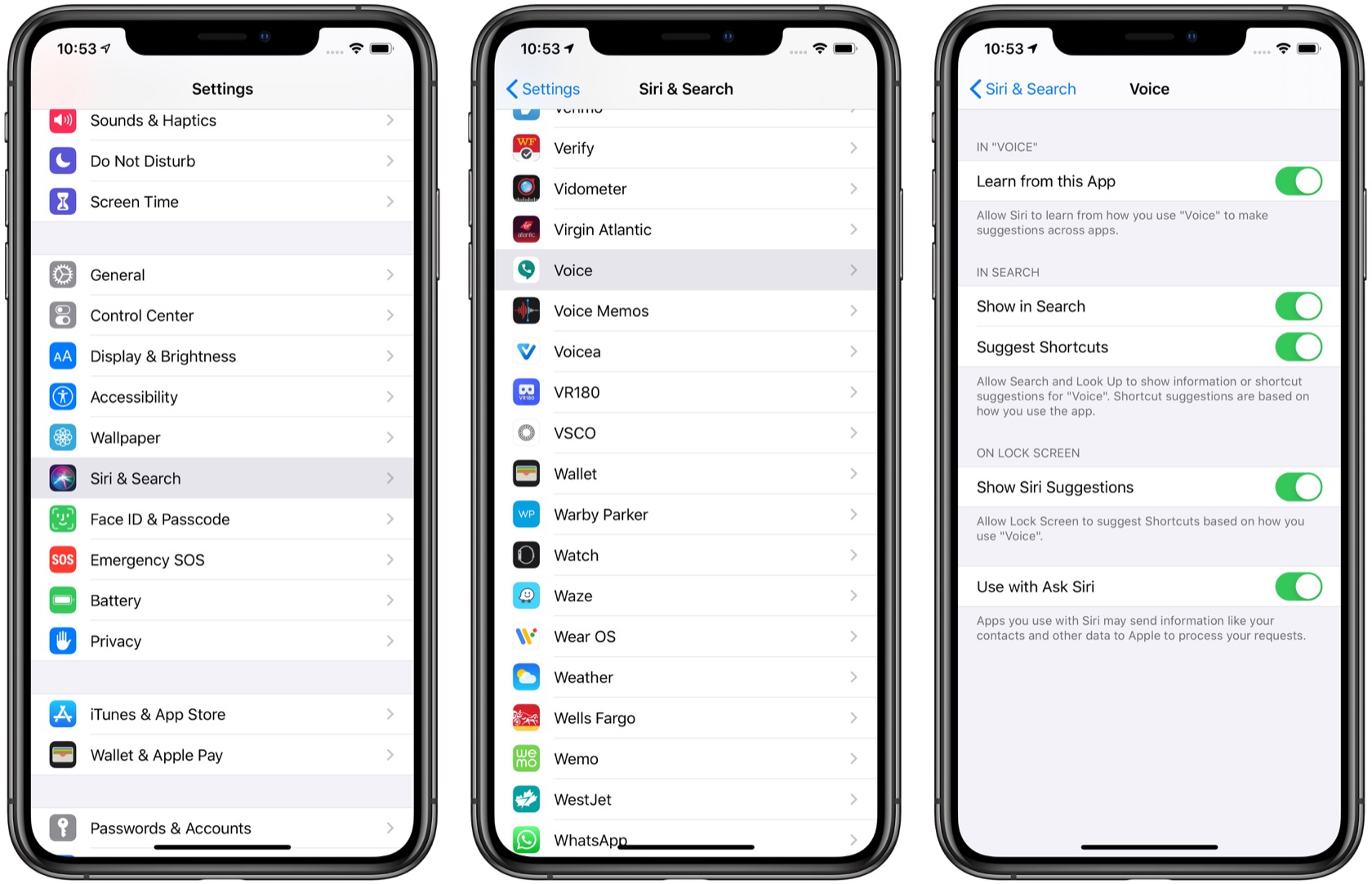 Then, scroll down to the list of apps. Voice should be toward the bottom of the list, and there's now a "Use with Ask Siri" option at the bottom. Turn that on, and you'll instantly be able to use Google Voice with the assistant.
Things get a little bit more complicated if you have more than one Google Voice account: say, if you have a work one and a personal one, that you use on the same iPhone or iPad. To make it work with Siri, you'll first need to establish a default account for outgoing calls and messages. For that, head into the Voice app and tap the button in the upper left corner for the Menu; then choose Settings. If you have more than one account registered, there should be a Default option under the Calls heading, within which you can choose your preferred account.
Using Google Voice with Siri
Once you've gone through those steps, there shouldn't be any further setup required to start using Google Voice with Siri. As we said, you'll need to add the "with Google Voice" – or words to that effect – to your spoken command in order to have Siri use that service rather than the iOS defaults.
Unfortunately, while Siri may be onboard with Google Voice, that doesn't mean other areas of iOS are yet. You still can't set a Google Voice account as the default for placing outgoing calls on an iPhone, for example, which has remained a lingering headache from the early days of the service.
That's something you can do with Android devices, which allows different calling and messaging services to be established as the default. Ironically, though, what you can't do on Android is use the Google Assistant to initiate Google Voice calls or send messages. For that we'll have to wait for Google to push out another update.