Here's how to avail of the LG G6's Second Year Promise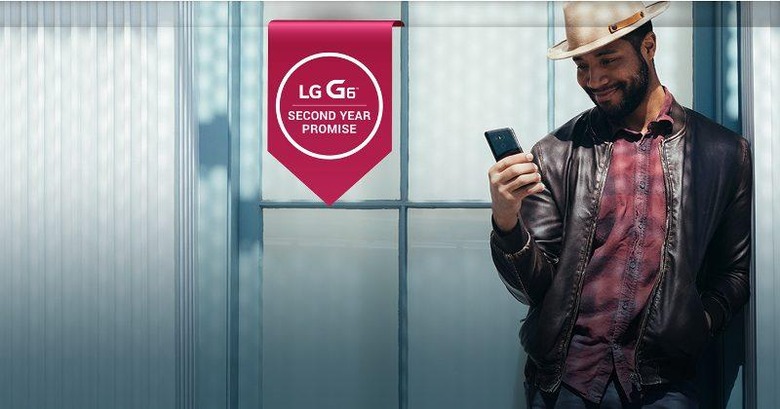 Although offering warranties is a long standing practice in the consumer market, Samsung's misadventures with the Galaxy Note 7 last year has put such programs under the microscope. Although LG insists it isn't simply reacting to that, it does admit that consumers have put reliability as a priority for their next phone purchase, something that the LG G6 promises to provide. To further increase their peace of mind, LG is now offering what it is marketing as its Second Year Promise, practically extending the original 12-month manufacturer warranty to 24 months.
There are two important facts about this Second Year Promise. First, it is available only to residents of the US, including Alaska, Hawaii, and US Territories, and only applicable to claims made in the same. To be eligible, you have to register you LG G6 within 90 days of purchase. Don't worry if you were one of the super early adopters of LG's nearly bezel-less phone. Devices purchased between March 10 and June 14 this year can still apply within 12 months of purchase.
The second important tidbit about this new program is that it just extends LG's limited manufacturer warranty.It is not an insurance program. As such, it only covers manufacturer defects. You don't get a free replacement if the G6 gets damaged by water or in accidents. That hasn't changed at all.
LG's Second Year Promise practically matches the two-year contracts most carriers have and is a systm already practiced in Europe. It addresses the fact that, under these conditions, consumers usually use their phones for two years, so the one-year limited warranty looks even more limited than it already is.
As the name suggests, the second year promise only kicks in after the first year of purchase. From months 1 to 12, warranty claims have to filed with carriers or retailers. From months 13 to 24, however, consumers will have to make the claim directly with LG, via service centers or through their website. LG promises a replacement LG G6, either brand new or refurbished, within two days of a verified claim.
SOURCE: LG